6 évet kellett várni, amíg a trióvá bővült zenekar végre megtalálta újra a stúdiót és új hanghordozóval leptek meg minket. Úgy látszik, ez az év erről szól, lásd Supernem... No de kanyarodjunk is vissza Royékhoz: 12 nóta található a lemezen, ami átlagban pont jó, bár a várakozási idővel arányosan lehetne több is. Mindezt azért mondom, mert ezek bizony igen jó nóták! És ezen én vagyok a legjobban meglepődve, ugyanis eddig nem voltam egy nagy rajongója a csapatnak. Pedig láttam őket élőben, volt, hogy a "csapból is ők folytak...", mégsem fogtak meg sosem. Egészen mostanáig.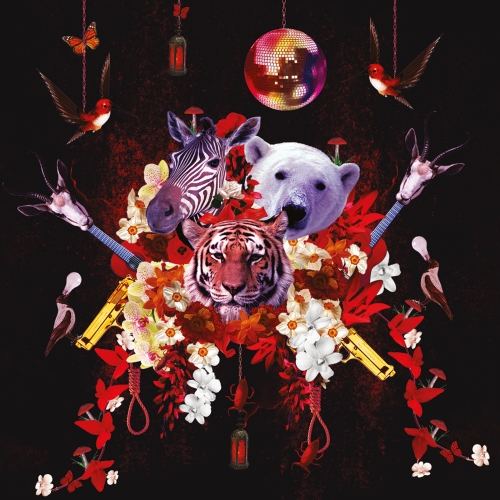 Egy instrumentális dallal indítanak a srácok, ami teljes mértékben teret ad annak, hogy Ádám kibontakozzon és magáévá tehesse a nagyközönség előtt kedvenc hangszerét (Istenem, be szép...). Ezt pedig igen magas szinten teszi, nekem nagyon átjön a "Nitro". Ezután már az éneklős számok következnek és iszonyatosan jó újra hallani Roy hangját. Legalábbis én mindig is nagyon szerettem, még ha ez ellentétben is áll a nyitányommal.  A zenei változatosságra nem lehet panasz, vannak húzósabb rock and roll vagy rockabilli nóták, gitárra kihegyezett opuszok, szövegközpontú, lassabb és egyszerűbb zenék, de valahogy mégis minden nótának megvan a maga külön aurája, ami miatt kedvelhető. Például a "Visszasírom" című dal egy furcsa keveréke a Tininidzsa teknőcöknek és Zoránnak, de imádnivaló mégis! A "Nincs erősebb Pista" tele van szőve népzenei motívumokkal és hegedűvel, míg a záró dal "Valami beteg", az tényleg beteg... Progresszíves, dnb-s ütemek, elektronika és elborult szöveg. Hatalmas.
Hátra vannak még a szövegek: találóak és ötletesek és kitaláltak és zseniálisak. Pont jó, hogy a Depresszió új lemeze után jött ki, mert tényleg alátámasztja azt, hogy Feri szövegei már unalmasak. Roy versei viszont izgalmasak és nem repetitívek. Ehhez még hozzájönnek a vendégművészek, mint például a lemez címadó dalában Odett, de énekel a lemezen Maszkura is... Szóval a változatosság itt is adott. Összességében azt kell mondjam, (és mondom, magam vagyok a legjobban meglepődve) hogy Magyarország egyik legjobb lemeze lett ez az idei évben. Nem tudom, mit tartogatnak még a zenekarok/előadók (sanszos, hogy a Till We Drop lemez megváltoztatja majd eme véleményemet...), de mindenképpen top 5-ös a lemez. Aki csak egy kicsit is kedveli a csapatot, az mostantól imádni fogja. Aki nem szereti őket, az adjon nekik még egy esélyt, nem fogja megbánni.
Jam
A bejegyzés trackback címe:
Kommentek:
A hozzászólások a vonatkozó jogszabályok értelmében felhasználói tartalomnak minősülnek, értük a szolgáltatás technikai üzemeltetője semmilyen felelősséget nem vállal, azokat nem ellenőrzi. Kifogás esetén forduljon a blog szerkesztőjéhez. Részletek a Felhasználási feltételekben és az adatvédelmi tájékoztatóban.