Ha van olyan banda a világon, akinek hányattatott sors jutott az elmúlt két évben, akkor a FFDP mindenképpen pályázik a "legleg" címre ebben a kategóriában. Ivan Moody rehabilitációja és a kiadóval való hadakozás után mégis kijelenthetjük, hogy a vonat robog tovább és a banda még mindig életerős.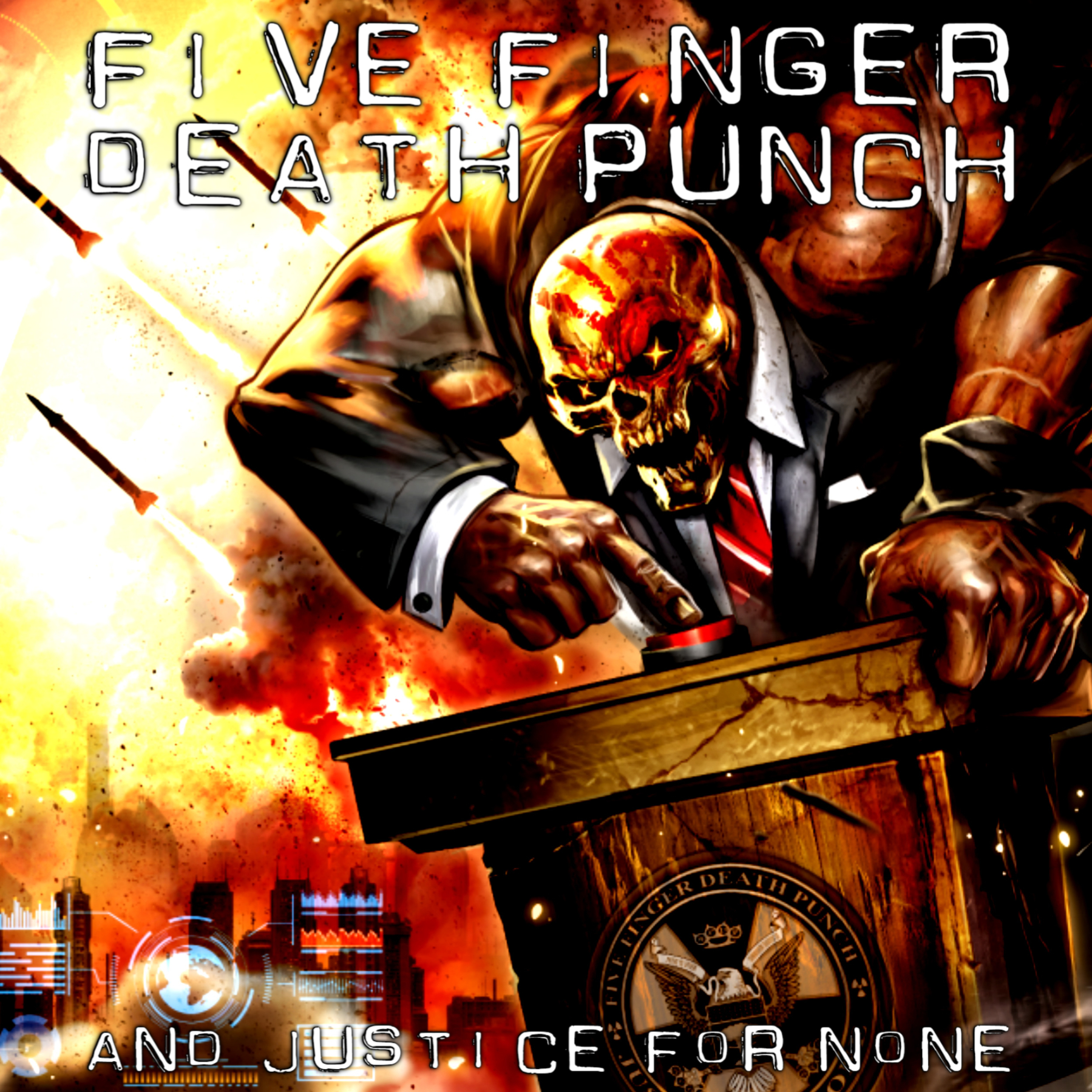 Az persze már egy teljesen másik kérdés, hogy a hetedik stúdióalbumként kihozott, a Metallica klasszikusára és a kiadóval való vitára is reflektáló And Justice For None is elég életerős-e ahhoz, hogy a világ egyik vezető metal bandájának hírnevét öregbítse? Sosem voltam a banda elkötelezett rajongója mondván, hogy attól még, hogy b-oldalas Nickelback dalokra Corey Taylor és David Draiman szerelemgyereke énekel, az még nem lesz instant klasszikus és vitán felül király. És igazából ez a lemez is ezt a feltevésemet látszik beigazolni, mert még mindig ugyan ezek a gondolatok motoszkálnak a fejemben és egy kicsivel sem sikerült több egyéniséget összeszedni, mint ami eddig volt a srácoknak. Nyilvánvalóan az elmúlt évek megpróbáltatásai is rányomják a bélyegeket, de ha hihetünk azoknak a híreszteléseknek, miszerint a lemez már 2016 végére kész volt, amikor még mindig rózsaszín és szivárványízű volt az urak körül, akkor jogos a felvetés, hogy nem kellett volna az utóbbi két évben egy kicsit átgondolni ezt az egész koncepciót? Mert az, hogy az album legjobb dala csak a deluxe edition-re került fel (Trouble), míg a két legemlékezetesebb tétel csak feldolgozás (Kenney Wayne Sheperd Blue On Black-jére és a The Offspring Gone Away-ére gondolunk szorgosan), az eléggé kedvezőtlen képet fest a helyzetről.
Félreértés ne essék, ez a lemez egy kicsit sem rossz, hiszen ha már csak csípőből pakolnak fel pár riffet egymásután és arra Ivan dalolászik egy kicsit, akkor is képesek közepes dalokat összehozni. A probléma inkább ott kezdődik, hogy ennél többre nem is igazán predesztinálták önmagukat az urak ezen a korongon. Nyilván a fenti összehasonlítgatások szubjektívek és tulajdonképpen joggal kérdezhetitek, hogy miért nem elismerés, ha valakit egy Corey Taylorhoz vagy a Nickelbackhez hasonlítok? A válasz pedig egyértelműen az egyéniség hiányában rejlik. Nincsenek olyan megjegyezhető dallamok a hangszeres szekciótól, amitől egyből a füledben ragadnának a dalok – egy-két gitárszólót kivéve, azokért meg jár a taps -, és az énekdallamoknak is elég sok helyen van desszertíze, mind a fentebb említett nagytesók, mind a banda saját diszkográfiájából szemezgetve. Nem szeretném temetni a bandát, mert nyilván élőben még mindig meg tudnak dörrenni úgy, ahogy kell, egy Rock Bottom vagy egy Fake majd indukálják a circle piteket, a balladák meg a nedves bugyogókat, de lemezen nekem annyira nem működik most ez a dalcsokor, mint amire számítottam. Egyszerűen elsuhantak mellettem a tételek és amikor lepörgött a korong, akkor nem is nagyon éreztem a késztetést arra, hogy rányomjak a replay gombra. Egyszerűen hiányzik az a plusz kis valami, ami a dalokból DALOKAT csinál és ezt nem tudnám ennél jobban megfogalmazni: középszerűség van és egy-egy túlnyújtott treknél már talán egy kis unalom is, az pedig sosem jó.
Jam
A bejegyzés trackback címe:
Kommentek:
A hozzászólások a vonatkozó jogszabályok értelmében felhasználói tartalomnak minősülnek, értük a szolgáltatás technikai üzemeltetője semmilyen felelősséget nem vállal, azokat nem ellenőrzi. Kifogás esetén forduljon a blog szerkesztőjéhez. Részletek a Felhasználási feltételekben és az adatvédelmi tájékoztatóban.