Nehéz nekiállnom ennek az írásnak, ugyanis jobban vártam Tyler és Josh legújabb lemezét, mintsem hogy azt el tudnám mondani. Az a nézetem, hogy a duó az elmúlt közel egy évtizedben megreformálta a pop és hip-hop kapcsolatát és egy olyan elegyet hoztak létre, amit senki más nem tudott, és nem is fog tudni utánuk csinálni. Éppen ezért lubickolok most az új album dalaiban, hiszen három év elteltével megkaptam az újabb adagomat, és jobban élvezem, mint valaha!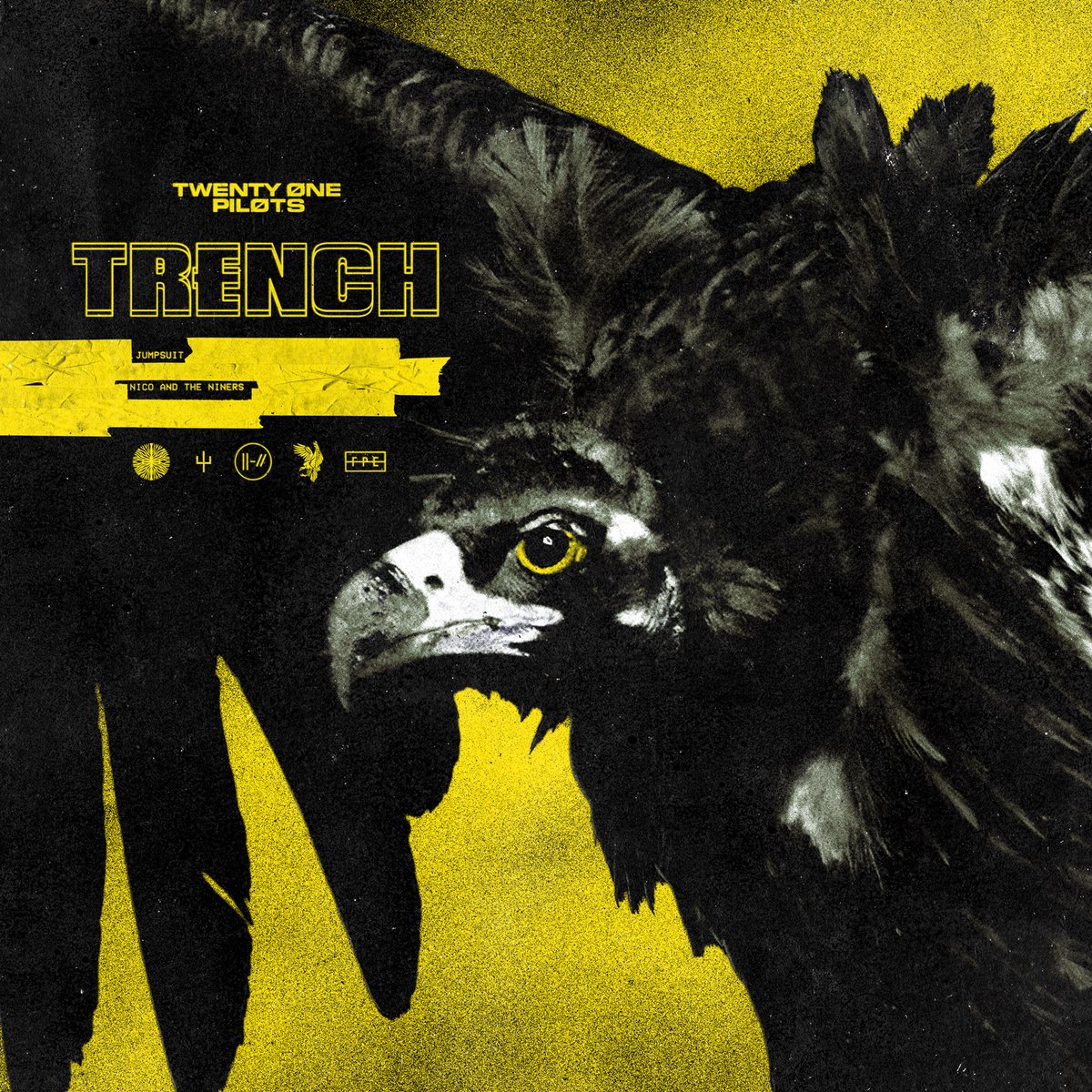 Igyekeztem nem felülni a hypevonatra minden lelkesedésem ellenére, mégis azon kaptam magam, hogy amint felkerült az új album, már rántottam is le és azóta gyakorlatilag kiszorult minden más a lejátszómból, hogy minden figyelmemet ennek az albumnak szentelhessem. Az első három (a My Blood-dal együtt négy) dal több mint meggyőző volt abból a szempontból, hogy Tyler ismét valami zseniálisat rángatott elő a kis szürke sejtecskéiből és a Blurryface méltó utódot kap. Aztán az első hallgatáskor arra lettem figyelmes, hogy nagyobb volt a füstje, mint a lángja, ugyanis a kihozott dalcsokor egy szép íves levezetése az előző albumnak és átívelés a jelenbe (nem véletlen az autóroncs a Jumpsuitban), ahol a Trench a maga visszafogottabb, lassabb módján engedi útjára a varázslatot, mint azt elődje tette. A Jumpsuit és a Levitate ereje és pörgése lecsendesedik és egy sokkal atmoszférikusabb, a banda korai szakaszára (gondolunk itt a zseniálisan depresszív selftitled debütre) sokkal jobban hajazó koronggá válik Tyler legújabb agymenése, amihez Josh tökéletesen asszisztál, noha sokkal kevesebbet kell tennie, mint az előző albumokon. Mégis egy elejétől a végéig élvezetes, feszes, megkapó és ragadós dalfüzérrel van dolgunk, ami okosan lett felépítve, és ami a legfontosabb, nem lett minden dalba beleerőltetve a Dema-sztori. Igen, jól látjátok, most is egy konceptalbummal van dolgunk, ami a Blurryface után talán nem olyan meglepő, hiszen elég nagyot lehetett vele anno, három évvel ezelőtt aratni…
Szóval a kezdeti lendület után visszaállunk alaptempóra, és így kapjuk meg azt a stíluskavalkádot, amit megszoktunk az elmúlt években. Lesz itt klasszikus rap-darálda (Levitate); r'n'b (Morph); kis reggea (Nico and the Niners, Cut My Lip); hatnegyedes melankóliázás (az abszolút fantasztikus Neon Gravestones), klasszik pop (My Blood, Smithereens), Bee Gees-t idéző rigmusok (Legend vagy épp a Morph refrénje), esetleg a The Verve klasszikus Bittersweet Symphony-ját eszünkbe juttató, epikus vonósokkal megtámogatott vagányság (The Hype). Jah, és ha már vagányság, akkor a Fairly Local farvizén evező Pet Cheetah lazaságát mindenképpen meg kell említeni, mert az sem egy kis dolog! (innen is üdv, Jason Stathem!) Plusz akkor már toljuk túl, és emlékezzünk meg azon dalokról is, akik időközben tempót vagy stílust váltanak, és teljesen mást fejeznek be, mint amit elkezdtek (Cut My Lip, vagy a lassan agyadba mászó és soha ki nem lépő Bandito). Látható tehát, hogy nem vettek vissza a srácok a kreativitásból, ismét egy olyan merőkanállal merítettek, amibe beleakadt mindenhonnan egy kicsi, agyaltak rajta 3 évet, aztán megint zseniális lett az összkép. A szövegeket mindenképpen fedezzétek fel magatoknak, mert Tyler versei mindig is többek voltak, mint szimplán rímelő sorvégek, meg hangzatos refrének – és hát a Neon Gravestones… Plusz a sztorit is ebből ismeritek meg, amely ugyan most nem fogja megváltani a világot, mégis olyan témával dolgozik, ami létjogosultságot biztosít magának, hiszen a depresszív, szuicid, disztópikus világkép korántsem elképzelhetetlen teória (esetleg realitás…).
A harmadik, ha már Tylernél tartunk: tudom, sokan csak nyivákoló ficsúrnak fogják látni, én mégis egy géniuszt látok benne, akinek remek hangi adottságai vannak. Plusz, aki az előző lemez gigaslágerei (Stressed Out, Ride, Heavydirtysoul) után valami más hangra számított, az nem is tudom, minek hallgatja őket egyáltalán… Szóval, fanyalgókkal nem foglalkozva, sokkal több fejhangot használ Tyler, mint eddig, és én ezt eléggé üdvözítendőnek találom, hiszen mint említettem, páratlan hangja van. Iszonyatos magasságokban tud szárnyalni, a rapelési technikája egyértelműen tanítani való, az alaphangja pedig kellemes és iszonyatosan dúdolható dallamokkal dolgozik. Ennek a háromnak a kombinációjából pedig sokszor úgy hallatszik, mintha nem is egy ember énekelne az egész lemezen, pedig de! Így talán nem lesz olyan nagy meglepetés, de én meg fogom adni a végére a 10/10-et, méghozzá három dolog miatt: 1 - a hatalmas elvárások ellenére is zseniális lemezt hoztak össze; 2 – egy olyan egyedi mezőnyben versenyeznek önmagukkal, ahol a léc a legmagasabban van, mégsem verik le soha; 3 – még mindig tudnak egyedit alkotni, noha már majdnem 10 éves az első album. Plusz a negyedik és számomra legfontosabb: imádom őket és példaértékűnek tartom a zenéhez és a rajongókhoz való hozzáállásukat. Készpassz, nálam év lemeze!
Jam
A bejegyzés trackback címe:
Kommentek:
A hozzászólások a vonatkozó jogszabályok értelmében felhasználói tartalomnak minősülnek, értük a szolgáltatás technikai üzemeltetője semmilyen felelősséget nem vállal, azokat nem ellenőrzi. Kifogás esetén forduljon a blog szerkesztőjéhez. Részletek a Felhasználási feltételekben és az adatvédelmi tájékoztatóban.