Kedden a Papp László Sportarénában örökre búcsút vett magyar követőitől a thrash metal egyik legjelesebb képviselője. A Slayer egy maratoni, másfélórás mészárlás után engedett minket örök utunkra, de előtte még megmutatták, hogy milyen lesz majd a pokolban újra találkozni! A bemelegítésről a Big 4 másik oszlopos tagja, az Anthrax gondoskodott.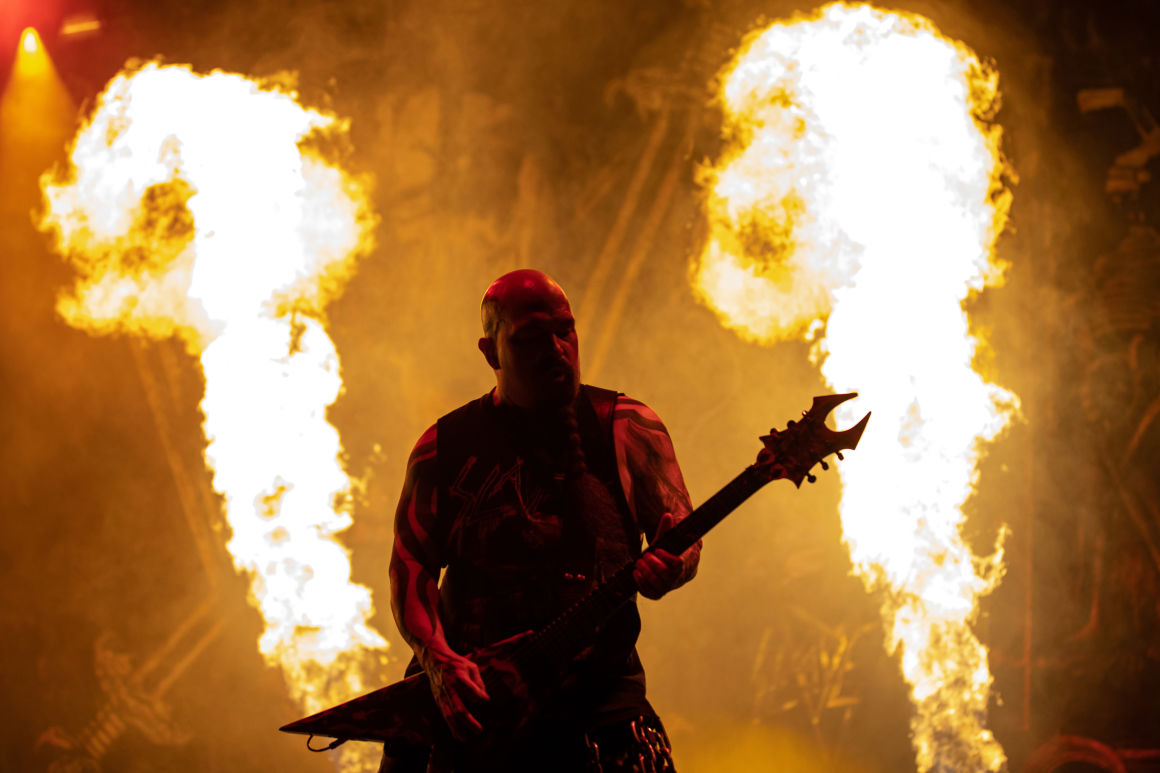 Pár perccel a kiírt kezdés előtt, már 19:55-kor megkezdték a hevítést Joey Belladonna-ék, és az Iron Maiden Number of the Beast-je után megukévá is tették a színpadot. Kérlelhetetlen profizmussal hozták le a közel egyórás szettet, amibe még így is belefért egy Joe Jackson és egy Trust cover is – nyilván Anthrax-esítve a régi lemezekről. Egy szolid, rövidre vágott best of műsort kaptunk, abból is a klasszikusabb fajtát, hiszen 1990 után született dalt szinte alig nyomtak az urak, viszont a klasszikusok mind egy szálig előkerültek (Caught in the Mosh, Madhouse, I Am The Law, In The End, Indians…). Nyilván itt az Anthrax csak a bemelegítő szerepet vállalta magára, úgyhogy egy órába ennyi fért, de ezt legalább élettel és tartalommal töltötték meg az urak. Joey hangja az est nagyrészében hibátlan volt – talán a negyedik dal körül kezdett kicsit inogni a magasabb tartományoknál, de aztán fújt egyet és újra megtalálta a balanszot. Az pedig, hogy a Kalapács Józsis magasaktól a falra mászom, már legyen csak az én bajom… A zenészekre sincs egy rossz szavam sem, hiszen mindenki vérprofi volt, de Scott Ian gitárost mégiscsak kiemelném, hiszen mind színpadi jelenlétben, mind konferálásban egészen nagy köröket vert a többiekre. Charlie Benante dobos volt az egyedüli, aki kicsit hullámzóbb teljesítményt nyújtott, ami miatt a többiek is meg-megbillentek néha, de összességében szórakoztató show volt. A hangosítás pedig nyilván hibátlan volt, erre nem is érdemes több szót pazarolni.
Az átszerelést sikerült átvészelni a büfében, hiszen kerek félórámba tellett, mire sorra kerültem egy bambiért, ezalatt pedig fel is építették a díszleteket a Slayernek, majd fél 10 előtt pár perccel megkezdődött a pokolszállásunk… A négy hatalmas kereszt megfordult, majd eltűnt, a pentagramok kigyulladtak, és a Repentless-szel megindult a másfél órás mészárlás. A komplett életműből felcsendültek a legnagyobb slágerek (World Painted Blood, War Ensemble, Payback, Seasons of the Abyss, South of Heaven, Reign in Blood…felsorolni is nehéz), mígnem 11 előtt néhány perccel az Angel of Death taktusaival végleg elköszöntek tőlünk Tom Araya-ék. Apropó köszönés: mindössze két rövid köszönömöt mondott Tom a koncert alatt, amúgy konferálás nélkül ment a darálda egészen a végéig. De hát valljuk be, ha valaki másfél órán át énekel arról, hogy mennyire szemét az élet, az emberek, a világ, az Isten, a minden… akkor nagyon fura lenne utána azt hallgatni, hogy "de cukik vagytok, köszcsi, vegyetek matricát, ingyen van!" Úgyhogy ez így volt jó, ahogy volt! Ráadásul a koncert után az ácsorgás a színpad szélén egészen megható momentumokat is tartalmazott.
A hangosításra itt sem térnék ki hosszabban, mert "úgy szólt, ahogy köll" – az elején a tamok kicsit recsegtek, de gyorsan orvosolták a problémát. Ugyanúgy a hangszeres játék is példás volt, Araya és King rutinból hozták a kötelezőt, sőt, Bostaph-ot is ide vehetjük a doboknál, hiszen már ő sem először ül a Slayer cucca mögött – bár azért neki érezhetően hosszú volt ez a 90 perc. Holt pedig felvette a fordulatszámot Hanneman sajnálatos halála után és tökéletesen beilleszkedett. Másfél óra után is úgy tekertek az urak, mintha most szabadultak volna az öltözőből frissen és üdén, ezért is fognak annyira hiányozni a színtérről, ha már nem lesznek. Ez a pokoljárás látványos volt és hangos (egy kisebb falu éves pirotechnikáját elhasználták), pörgős és kemény, és el kellett utána gondolkodnom, hogy ki fogja átvenni a stafétát Araya-éktól? Erre pedig nemigen találtam még meg a választ, úgyhogy, ha nektek megvan, akkor szóljatok, légyszi! Egyelőre én ott tartok, hogy a Slayer egy olyan űrt hagy majd a keményzenében, aminek nincs meg a megfelelő utánpótlása, ez pedig igencsak sajnálatos. Mindenesetre a Big 4 két tagját egy színpadon látni elképesztő élmény volt, ráadásul valószínűleg utoljára, úgyhogy egyértelműen kihagyhatatlanra sikerült az este – mondja ezt nyolcezer pajtika még rajtam kívül. Már csak a Metallcia és a Megadeth hiányzik a sorból, de addig is: God hates us all!
Fotó: Mohai Balázs
Jam
A bejegyzés trackback címe:
Kommentek:
A hozzászólások a vonatkozó jogszabályok értelmében felhasználói tartalomnak minősülnek, értük a szolgáltatás technikai üzemeltetője semmilyen felelősséget nem vállal, azokat nem ellenőrzi. Kifogás esetén forduljon a blog szerkesztőjéhez. Részletek a Felhasználási feltételekben és az adatvédelmi tájékoztatóban.