Gondolom nem árulok el nagy újdonságot, de idén is nagy verseny folyik az egyetemisták zsebpénzének bezsebeléséért a Sziget Produkciós iroda részéről. Úgyhogy én segítek is ebben, pár fellépő a teljesség igénye nélkül.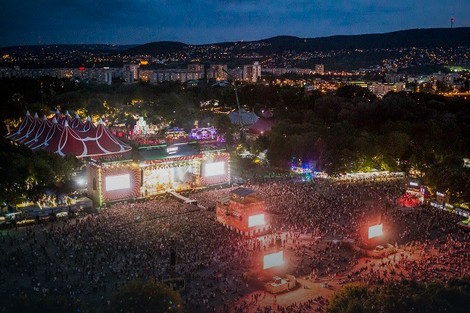 A Volton (2011 júnis 29 - július 02) még nincs színpadokra lebontva a dolog, itt még csak felsorolás-szerű a dolog, de így is érdemes belepillantani a dologba. My chemical romance, Sum41, Thirty seconds to mars...azt se tudom, melyik napra menjek...
    * Crookers
    * Dub FX
    * House of Pain
    * Paul Kalkbrenner
    * My Chemical Romance
    * Moby
    * Monster Magnet
    * Pendulum
    * Primus
    * Sum41
    * The Ting Tings
    * Thirty Seconds to Mars
    * Joris Voorn
A Szigetre (2011 augusztus 10-15) pedig már a színpadbontás is megvan (a nagy neveknél legalábbis), jön a Rise against, a Motörhead, a Judas priest, a Sonata arctica... Egyszerűen az embernek nincs ennyi pénze, úgyhogy jól kell mérlegelni!!
Pop-Rock Nagyszínpad
    * Dizee Rascal
    * Flogging Molly
    * Gogol Bordello
    * Interpol
    * Pulp
    * Rise Against
    * Skunk Anansie
    * Smash Mouth
    * The Chemical Brothers
    * The National
Európa Színpad
    * Söhne Mannheims
    * Triggerfinger
    * Verdena
Világzenei Nagyszínpad
    * AfroCubism
    * Bassekou Kouyaté
    * Debout Sur Le Zinc
    * Djelimady Tounkara
    * Eliades Ochoa
    * Goran Bregovic Wedding And Funeral Band
    * Gotan Project
    * Kasse Mady Diabaté
    * Les Hurlements d'Léo
    * Ojos de Brujo
    * Rotfront
A38-WAN2 Színpad
    * Hurts
    * Marina and the Diamonds
Party Aréna
    * Bloody Beetroots Death Crew 77
    * Crystal Castles
    * Hadouken!
Rock és Metál színpad
    * Judas Priest
    * Motörhead
    * Sonata Arctica
Ha ennél többet is lehet majd tudni, természetesen hírül fogom adni, addigis törjétek a fejeteket, meg persze a malacperselyeket is...
Jam
A bejegyzés trackback címe:
Kommentek:
A hozzászólások a vonatkozó jogszabályok értelmében felhasználói tartalomnak minősülnek, értük a szolgáltatás technikai üzemeltetője semmilyen felelősséget nem vállal, azokat nem ellenőrzi. Kifogás esetén forduljon a blog szerkesztőjéhez. Részletek a Felhasználási feltételekben és az adatvédelmi tájékoztatóban.