Február 12-én, azaz szerdán a műfaj alapvetésének számító Thy Art Is Murder veszi be a Barba Negra Music Club-ot, olyan bandákkal melegítve a rajongók nyakizmait, mint a Carnifex, a Fit For An Autopsy, a Rivers Of Nihil és az I Am. Öt ilyen bandát egy turnén elcsípni pedig igazi nyalánkság a műfaj szerelmeseinek, úgyhogy ne hezitáljatok túl sokat!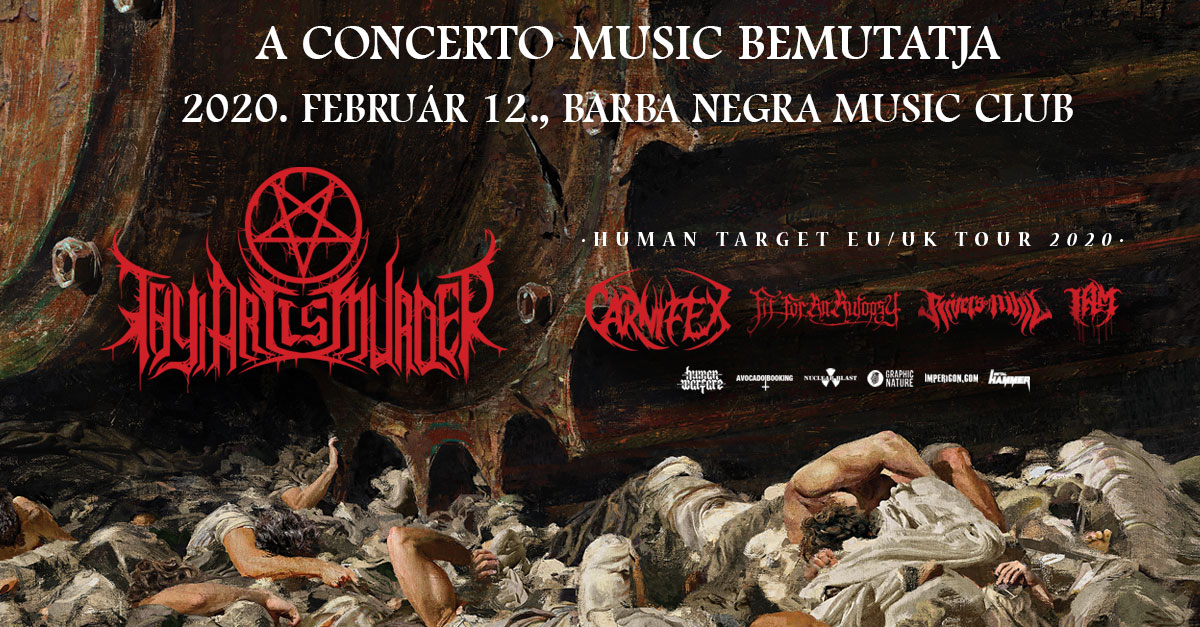 Tavaly nyáron jelentette meg Human Target című ötödik nagylemezét az ausztrál Thy Art Is Murder, ami ugyan nem lett instant klasszikus, de olyan dalokkal, mint a címadó, a New Gods vagy a Make America Hate Again, simán le lehet igázni egy klubnyi fiatalt. Ráadásul CJ McMahon egy igazi szörnyeteg a mikrofonnál, Jesse Beahler dobtémáit pedig élmény élőben nézni, úgy pörög a srác. A felvezetésből egyértelműen a Carnifex és a Fit For An Autopsy emelkedik ki, akik szintén 2019-ben jelentkeztek új lemezekkel, előbbi az igazán mély és puritán egyszerűségű World War X-szel, míg utóbbi a furkóság és stílusbeli határfeszegetések egyedi keverékének számító The Sea Of Tragic Beasts című koronggal.
Elővételes jegyeket a TIXA, a Rock1, és a TicketPortal rendszerében is tudtok venni 5.900 Ft-ért, míg a koncert napján, a helyszínen 6.500-at kóstál majd egy belépő. De ha a papírjegyeket preferáljátok, akkor a Barba Negra jegypénztárában, a CD Pincében és a Headbanger-ben olyat is be tudtok szerezni. Minden másról a hivatalos eseménynél tudtok tájékozódni.
Jam
A bejegyzés trackback címe:
Kommentek:
A hozzászólások a vonatkozó jogszabályok értelmében felhasználói tartalomnak minősülnek, értük a szolgáltatás technikai üzemeltetője semmilyen felelősséget nem vállal, azokat nem ellenőrzi. Kifogás esetén forduljon a blog szerkesztőjéhez. Részletek a Felhasználási feltételekben és az adatvédelmi tájékoztatóban.