Majdnem húsz évet kellett várnia Corey Taylor vezette banda megalakulása óta, de június 25-én végre kicsiny hazánkat is meglátogatja a Slipknot vezérének "másik bandája", ahogy csúfolni szokták a Stone Sour-t. Viszont aki ellátogat a koncertre, az megbizonyosodhat róla, hogy ennél azért sokkal többről van szó!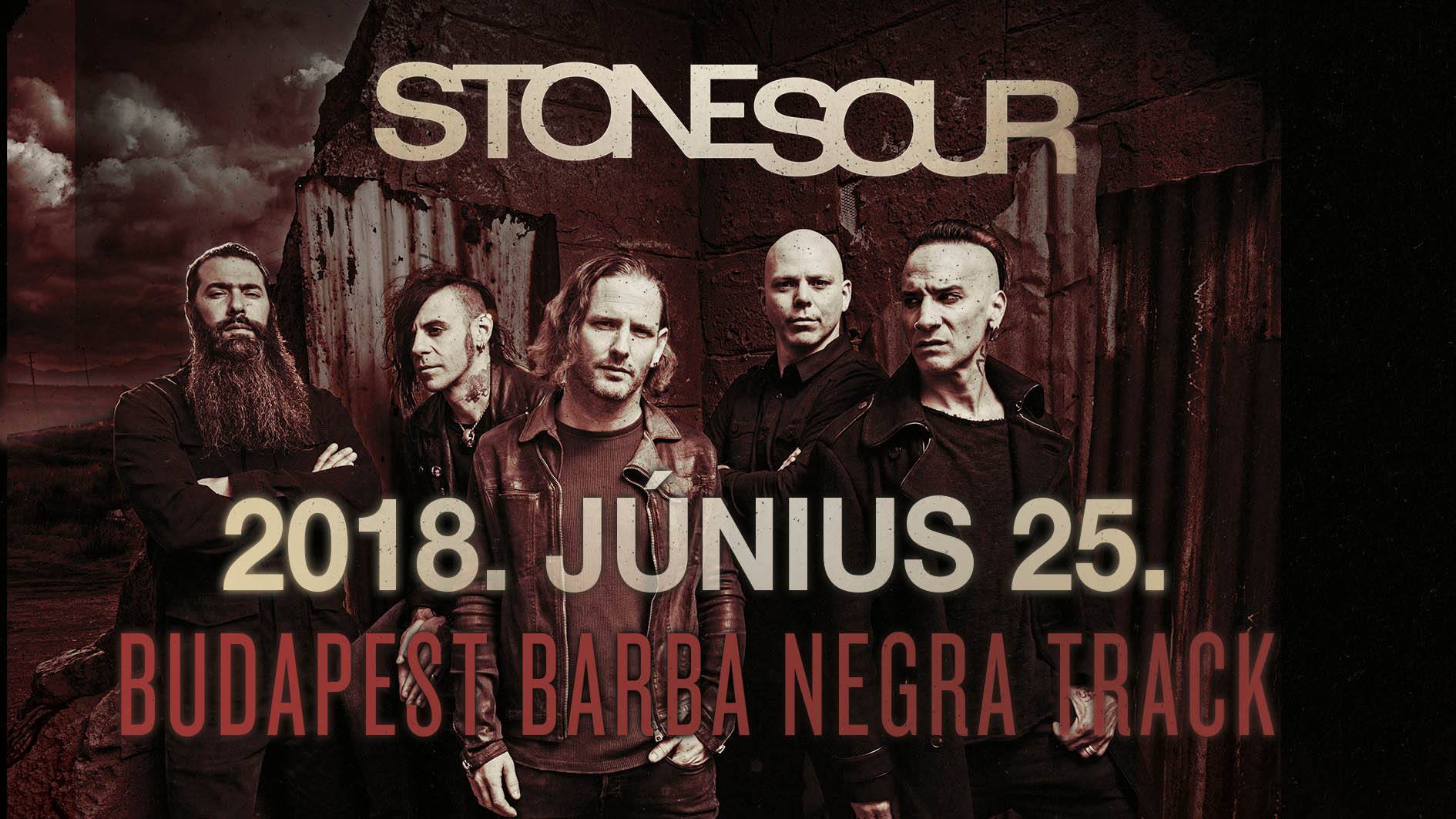 Lévén például, hogy ez a banda előbb alakult, mint a Slipknot… Na de, nem is ez a lényeg, hanem hogy a tavaly megjelent Hydrograd lemez bemutatókörútjának részeként végre Magyarország is meghallgathatja, hogy Corey micsoda hangi adottságokkal rendelkezik – maszk nélkül is. A jegyekért 9999 Ft-ot kell kiszurkolni, ami azért nem kevés, de ha hozzávesszük, hogy majdnem húsz éve várunk erre a pillanatra, akkor egy kicsivel talán könnyebb. Hozzájuthattok a jegyekhez a Barba Negra Track jegypénztárában, a Hammer Zenebarlangban, a Headbangerben, a CD Pincében, vagy online, az alábbi helyeken:
Barba Negra rendszerében:
https://jegy.rock1.hu/stone_sour_20180625-standing

Ticketportal rendszerében:
https://www.ticketportal.hu/event.aspx?id=48719

Broadway jegyiroda rendszerében:
https://broadway.jegy.hu/program/stone-sour-87985/412867
Emellett különböző VIP csomagokhoz is hozzájuthat, aki szeretne, viszont ezek nyilván nem olcsók:
Side Stage VIP - 89.500 Ft,- 
https://jegy.rock1.hu/stone_sour_20180625-sidestage

Meet and Greet VIP - 42.200 Ft,-
https://jegy.rock1.hu/stone_sour_20180625-meetandgreet

Early Entry VIP - 26.500 Ft,- 
https://jegy.rock1.hu/stone_sour_20180625-earlyentry
A koncertre 10 év alatt ingyen juthatnak be a kicsik, viszont 16 év alatt mindenképpen csak szülői felügyelettel. Az eseményt itt találjátok:
https://www.facebook.com/events/1414538758669234/
Ott tali!
Jam
A bejegyzés trackback címe:
Kommentek:
A hozzászólások a vonatkozó jogszabályok értelmében felhasználói tartalomnak minősülnek, értük a szolgáltatás technikai üzemeltetője semmilyen felelősséget nem vállal, azokat nem ellenőrzi. Kifogás esetén forduljon a blog szerkesztőjéhez. Részletek a Felhasználási feltételekben és az adatvédelmi tájékoztatóban.