Megérte elkanyarodnia kis hazánkba az ukrán csajfrontos metalcore brigádnak, hiszen tegnap este egy teltházas, fülledt, pörgős, mégis családias hangvételű bulit hoztak össze Tatiana-ék. A bemelegítésről a szintén ukrán Sinoptik, valamint hazai frontról a Lost Continent, a The Tumor Called Marla és a Nova Prospect gondoskodott.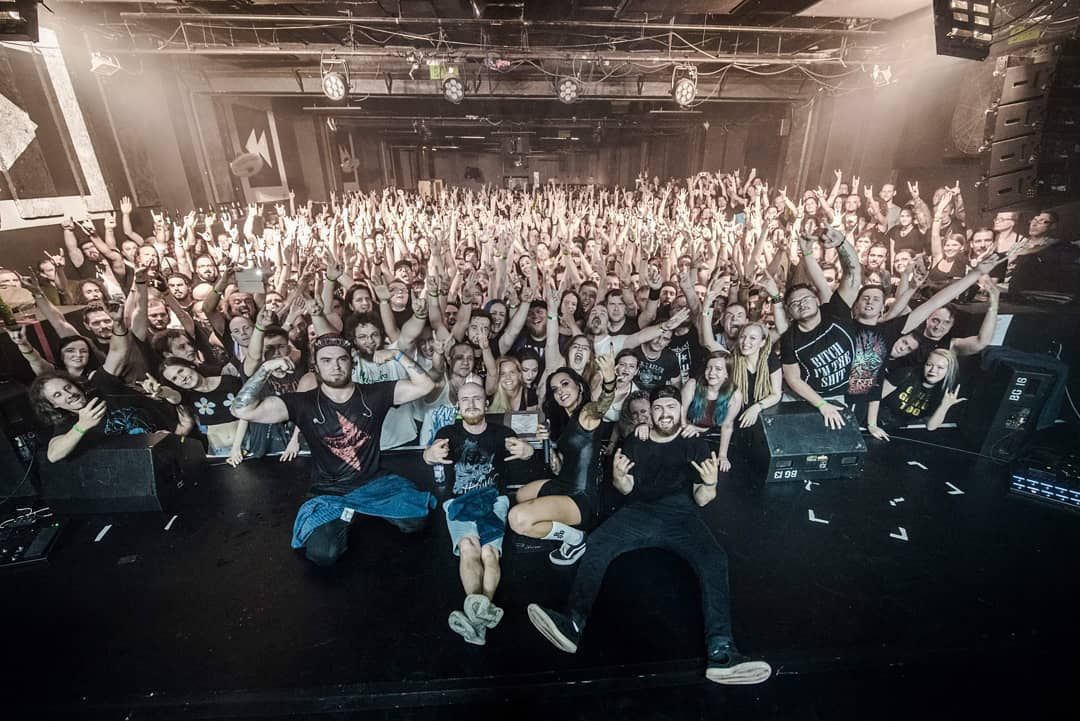 A bejutás gördülékeny volt, úgyhogy kíváncsian vártam, hogy a csellóval csapató modern metalos srácok mivel fognak kényeztetni. Bár matiné volt a kezdés és a kapunyitástól számítva 10 percen belül kezdett is a Lost Continent, mégis meglepő volt, hogy mindössze ~30 ember verődött össze a nagyteremben rájuk. Láthatóan ez a srácokat nem igazán törte le, hiszen a rendezői bal (a cselló és az egyik gitár, valamint a vokalista) nagyon élte a bulit, viszont a dobos, a basszeros és a másik gitáros kolléga kicsit szerényebben adta elő a kérdést. A szett nem volt hosszú, mindössze 30 percben kellett volna minket lenyűgöznie a srácoknak (percenként egy embert, nem is olyan sok az…), de sajnos ez nem jött össze maradéktalanul, hiszen a közönség egyáltalán nem volt vevő sem a tapsolásra, sem az éneklésre, sem az üvöltésre… sem semmire. Szó mi szó, eléggé furcsa csellóval kísért breakdownokat hallgatni, s talán a feladat is kicsit nagynak bizonyult még a srácoknak egy ekkora helyen, de tisztességgel igyekeztek helytállni, még ha kicsit egysíkú zenével is. Bár a hangzás nem volt a topon, a gitárok csak zsizsikek voltak és sajnos Bálint énekéből sem lehetett semmit érteni, de azt meg tudtam állapítani, hogy kellemes hangszíne van a srácnak.
A második felvonást a The Tumor Called Marla kapta, akiket már jóval többen vártak és néztek végig, holott ezt az előadás nem éppen indokolta. A dalaik összetettek és nehezek (big lájk), ezzel még nem is lenne baj, viszont Andris és Barbi vokálpárosa egyáltalán nem működött élőben. Egyszerűen túl sok az, hogy szinte az egész bulit mindketten végig éneklik, ráadásul a harmóniák sokszor csúsznak mellé, amitől az egész kap egy olyan felhangot, mintha egy részeg karaoket hallgatnánk valamelyik sarki pubban. A gitárokat itt sem lehetett nagyon elkülöníteni egymástól – pár szólótól eltekintve, ami szintén big lájk -, az effektek teljesen elvesztek, viszont Csobán Bencét mindenképpen meg kell dicsérnem, ugyanis élmény nézni, ahogy püföli a cájgot. Nagy kár, hogy csak ennyi pozitívumot tudok összeszedni a srácokról, mert baromi tehetségesek és a kiadványaikon is látszik és hallatszik, hogy sok energiát fordítanak rájuk, de az élő teljesítményre még rá kellene gyúrni. Nagyon!
Magyar vonulatból a Nova Prospect volt a záróakkord az estén, akik megmutatták, hogy nem a szél hordta össze számukra azt a szeretetet és népszerűséget, ami övezte őket az szettjük alatt. A zenészek végig egészen magas színvonalon muzsikáltak, jóval összeszedettebbek voltak, mint az előző két banda (összesen), Gabi pedig uralta a színpadot a maga kislányos-női mivoltában buborékfújóval, megafonnal, tótágassal és cigánykerekekkel együtt. Egyértelmű helyzetelőnyben vannak egyébként a srácok, hiszen nincs idehaza még egy olyan banda, akik ilyen kemény alapokra ilyen markáns női hanggal rendelkeznének, ráadásul a dalaik is egészen jól össze vannak rakva. Amikor jöttek a nagyon magas énekek és már egy kicsit fogyott a szusz a sok ugrándozás után, akkor azért voltak bizonytalanságok, de mégis ki kell jelenteni, hogy a Nova Prospect egy egészen másik szintet képvisel a magyar undergroundban, mint az előző két banda. És én igenis komáltam, amit a srácok leműveltek a színpadon.
Aztán érkezett a Sinoptik a maga elszállós, grunge-os, stoneres, alternatív rockzenéjével és ismét történt egy szintugrás, még Gabiék megszólalásához képest is (bőven). A trió uralta a színpadot, a hangszerek tökéletesen elkülönültek egymástól és a performanszból áradt a profizmus és az összeszedettség. Talán ennyit jelent az, hogy már nem egy magyar bandát, hanem egy külföldit hallgattunk, még akkor is, ha csak a szomszédos Ukrajna a srácok szülőhazája. Nem tagadom, futkos a hátamon a hideg ettől a "hányszor lehet büntetlenül ismételni egy refrén/riffet" stílusú zenétől, de Dima Sinoptik annyira magával ragadó egyéniség és a többiek annyira alázatosan és stabilan dolgoznak alá, hogy simán végig bírtam állni a félórás műsort. Egy fele ennyire karakteres bandáról az első számnál fordultam volna ki hűsölni a kerthelyiségbe, úgyhogy ez tőlem valóban elismerésnek számít! Az pedig még nagyobb a publikumtól, hogy szinte megtelt rájuk a nagyterem.
Az est koronáját mégis a főbanda kapta, ugyanis mindenféle késés nélkül érkezett a Jinjer, hogy megmutassa: ez a mi koncertünk, gyerekek, és szétb@sszuk a fejedet! És szétb@szták... Már az is eléggé kedvező előjelnek számított, hogy ki kellett aggatni a "teltház" táblát a Dürer ajtajára, viszont amikor elkezdődött a buli és megindult a közel egyórás zakatolás, akkor valami egészen más dimenzióba léptünk ismételten. Roman, Eugene és Vladislav olyan szinten lélegeznek egyszerre, hogy néha eszembe jutott az Architects, a Protest The Hero vagy éppen a Bury Tomorrow, akik számomra mindig is etalonok lesznek színpadi összeszokottság tekintetében. Ehhez képest ez a három ukrán úriember olyan matekosan kicsit okos, de nagyon baszós témákat húzott elő a farzsebből, kíméletlen pontossággal, hogy szinte dalonként kellett megemelnem a kalapom előttük. Aztán jött Tatiana és a végzet asszonya kinézetével és a démonoktól kölcsönzött hangjával leigázta a nézősereget. Valószínűleg nem tudnék mondani még egy frontasszonyt, aki ilyen zsigeri hangokat képes kicsikarni magából közel egy órán keresztül, majd elénekelni egy lírikus dalt szép tisztán, majd ugrani egy oktávval feljebb, szintén szép tisztán… Mindemellett pedig ő is része a lélegző gépezetnek és ugyanúgy együtt headbangel hatnyolcadra, mint ötnegyedre a többiekkel, a megállásokról és beszállásokról már nem is beszélve. Tény, baromi meleg volt és talán ez az egy óra masszív mészárlás kicsit sok is volt egyben, de összességében azt tudnám mondani, hogy ez az egy koncert megérte az egész este árát, a többi már csak a kellemes ráadás volt. Az pedig, hogy a Jinjernél csak az Obey The Brave használ több bass dropot egy dalon belül, az valamit csak elárul a tuskóság fokáról!
Kicsit sajnálom, hogy ekkora különbség van még mindig a hazai és a külföldi fellépők megszólalásának minősége között, de a Nova Prospect azért egy kellemes átmenet volt és egy biztató előjel a jövőre nézve (ilyenkor mindig eszembe jut a The Idoru és a Till We Drop… RIP). A Sinoptik, bár nem volt az én világom, mégis elismerem őket, a Jinjer pedig hozta azt, ami miatt az egész esemény létrejött: letépték az arcunkat! Köszönjük, jövünk legközelebb is, mert van pofánk hozzá!
Jam
A bejegyzés trackback címe:
Kommentek:
A hozzászólások a vonatkozó jogszabályok értelmében felhasználói tartalomnak minősülnek, értük a szolgáltatás technikai üzemeltetője semmilyen felelősséget nem vállal, azokat nem ellenőrzi. Kifogás esetén forduljon a blog szerkesztőjéhez. Részletek a Felhasználási feltételekben és az adatvédelmi tájékoztatóban.