Csütörtökön a brit metalcore legjobb élő bandájának választott Architects bizonyította a Budapest Parkban, hogy maximálisan kiérdemelték a fenti titulust! A bemelegítésre csak honfitársakat hoztak a szigetországból, névlegesen a Loathe, a Rolo Tomassi és a While She Sleeps bandáját, akik mind méltónak bizonyultak a hatalmas színpadra.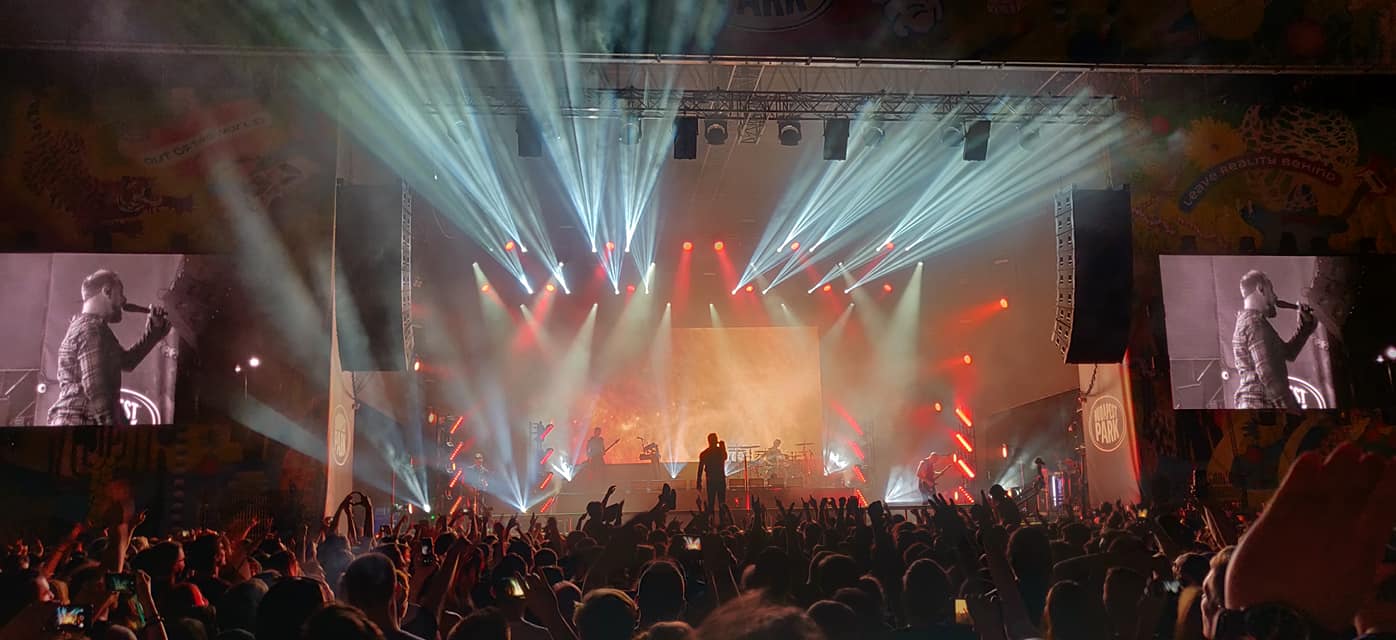 A kezdés igencsak matiné volt, hiszen a délután négyes kapunyitás után mindössze 35 perccel máris megkezdte műsorát a Loathe. Rájuk teljesen vakon repültem be és egyáltalán nem tudtam, hogy mire is kell számítanom, s talán pont ennek köszönhetően csalódtam iszonyatosan pozitívan a bandában. A zenéjük okos volt, bőven meghintve progresszíves, matekos elemekkel, mindeközben viszont olyan bunkó aprításokat mutattak be, hogy az Emmure sírva könyöröghetne a receptért. Egy pillanatig nem volt unalmas a muzsikájuk, Kadeem France tökéletesen eladta a műsort, s ugyan Erik tisztáiba néhol bele lehetett volna kötni – nameg a kifogyott későhippi ingekbe -, de maga az egész annyira egyben volt és a srácokon annyira látszott, hogy élvezik, hogy ez menthetetlenül rám is átragadt. Bár a hangosítás nyilvánvalóan az első bandánál a leggyengébb (de a dob túl volt tolva egész este...), de még ez sem tudta kedvem szegni, szereztek a srácok egy újabb rajongót (s ahogy a gyülekező tömeg lelkesedését elnéztem, nem csak egyet)!
Másodikként a Rolo Tomassi vetette rá magát a deszkákra, de igazából ez barokkos túlzás, hiszen Eva Spencer énekesnőn kívül a többiek mintha csak a gázsiért álltak volna a színpadon és nagyjából érzelemmentesen hozták le a szettet. Bár tény, nem is arattak akkora sikert a káoszmetaljukkal, mint előttük a Loathe, hiszen hiába volt nagyobb a tömeg rajtuk, a dalok között az ováció fordított arányban volt a nézőszámmal. S mi tagadás, Eva hangját szokni kellett nekem is egy ideig, mikor először elüvöltötte magát, csak annyit tudtam kinyögni, hogy "fhú b@$zki, erre még én sem voltam felkészülve…" Tényleg egy hatalmas káosz, amit játszanak, teli félhangokkal és szűkítettekkel, tiszta akkordokat még véletlenül sem alkalmaznak, Eva pedig a black metal és a metalcore screamjeinek határmezsgyéjén táncol a legjobb pillanataiban. A legrosszabbakban pedig megpróbál tisztán énekelni, ami az első pár dalnál korrektül sokkolt, szinte a hátamat karcolta, annyira nem volt a helyén – de szerencsére a végére azért belejött. Összességében viszont az élvezeti faktor messze elmaradt az est nyitóbandájától, hát még a főbb attrakcióktól…
Harmadikként a While She Sleeps következett, akiknél azért már érződött a közönségen is, hogy sokan ismerik, még többen szeretik és talán még ennél is többen imádják őket. Ekkor már konkrétan tömve volt a tánctér, a wall of death-ek és a circle pit-ek önműködő szakkörként alakultak minden dalnál, a srácok pedig baromira élvezték a színpadot. Egy pillanatig nem volt hiányérzete az egyszeri nézőnek még úgy sem, hogy a banda énekese Loz Taylor nem volt velük, hiszen a Bleed From Within hörgőse, Scott Kennedy tökéletesen helyettesítette. A tisztákat meg úgyis Mat hozza, tehát nagy para nem lehetett. Mat pedig hozta is, amit kellett – már amikor lehetett hallani, ugyanis az elején elég sokáig halk volt a mikrofonja. Egyértelmű, hogy a WSS már túlnőtt az előzenekar státuszon, hiszen saját jogukon is csinálnak simán ekkora bulikat, úgyhogy hiba nélkül, tökéletesen hozták a majd' egyórás szettet, válogatva a négy lemez legerősebb tételeiből. Egyértelmű, hogy az új lemez dalait promózzák inkább, ovációs megmozdulásoktól övezett Anti-Social-ök és The Guilty Party-k röpködtek nagyon alacsonyan, de amikor egy Silent Speaks, egy Brainwashed vagy éppen a záró Hurricane megdörrent, akkor azért csak megőrült mindenki a nézőtéren. A végére pedig illik megemlíteni Sean Long gitárost, aki a színpadon a legvisszafogottabban viselkedett, mégis olyan témákat gitározik folyamatosan, hogy le a kalappal előtte. Nálam ő nyerte az estét!
Végül 7 perc késéssel ugyan, de megérkezett a várva várt főbanda is, Sam Carterék pedig minden kétséget kizáróan tanúbizonyságát adták annak, hogy talán nem csak Nagy-Britannia legjobb koncertbandájáról beszélünk… Bár az első egy-két dalnál Samnek nem volt okés valami, kontaktolt is a technikussal eléggé sokat, viszont mindez a teljesítményén egyáltalán nem látszott meg. Olyan torka van ennek az embernek, hogy tényleg párját ritkítja széles e világon! Nagy fityekkel kijelentettem a mellettem állóknak, hogy úgysem lesz másfél órás a buli, hiszen azt képtelenség torokkal bírni. A nonstop üvöltést, a tonális screameket és a minimális teljesen tiszta éneklést nem lehet 90 percen keresztül tökéletesen hozni, az lehetetlen. Nos, ezennel bevallom: tévedtem! Sam Carter minden, és még azon is túl… Nyilván a tavalyi Holy Hell dalai voltak túlsúlyban, de amíg egy Modern Misery vagy Royal Beggars döngölése eltemet a mázsás súlyú riffjeivel, vagy éppen a címadó és a Hereafter táncra perdít, addig semmi baj nem lehet. Érdekesség talán, hogy csak az utolsó három lemezről játszottak a srácok, így akik a These Colours Don't Run-t, az Alpha Omega-t vagy nagy bátran (mint én) egy Early Grave-t vártak, azok sajnos hoppon maradtak. Viszont az újkeletű fanboyok, akiknek fingja nem volt, hogy a Gone With The Wind után, egy szív közepén felvillanó TS monogram mit jelent, de a második számtól kezdve azt üvöltötték, hogy dúúúúmszdéj… na, ők legalább elégedetten távoztak! Bár fanyalogni senkinek nem volt oka, hiszen zenészileg, hangilag, látványilag, érzelmileg, sőt, úgy általában mindenileg világszínvonalú produkciót láttunk és hallottunk, még akkor is el kell ezt ismernem, ha a Broken Cross-t is hiába vártam… Egyetlen negatívum talán Sam koncertvégi beszéde lehetett, ami szokásosan kezdődött, de aztán mikor 7 perc elteltével még mindig beszélt, ott azért átfutott az agyamon, hogy "ki kell tölteni a műsoridőt, vagy mi a fene?" De alapjában véve egy rossz szavam sem lehet, hiszen slágerparádéval és egy tökéletes élménnyel ajándékoztak meg a srácok minket. Jövőre ugyanitt?
Fotó: Pallai Márton
Jam
A bejegyzés trackback címe:
Kommentek:
A hozzászólások a vonatkozó jogszabályok értelmében felhasználói tartalomnak minősülnek, értük a szolgáltatás technikai üzemeltetője semmilyen felelősséget nem vállal, azokat nem ellenőrzi. Kifogás esetén forduljon a blog szerkesztőjéhez. Részletek a Felhasználási feltételekben és az adatvédelmi tájékoztatóban.