November 9-én, azaz most szombaton az ezredfordulós nu-metal zenekarok két kiemelkedő alakja, a P.O.D. és az Alien Ant Farm veszi kezelésbe a fehérvári közönséget, a bemelegítést pedig a Los Angeles-i Dead Girls Academy vállalja magára. Nosztalgiavonatra fel!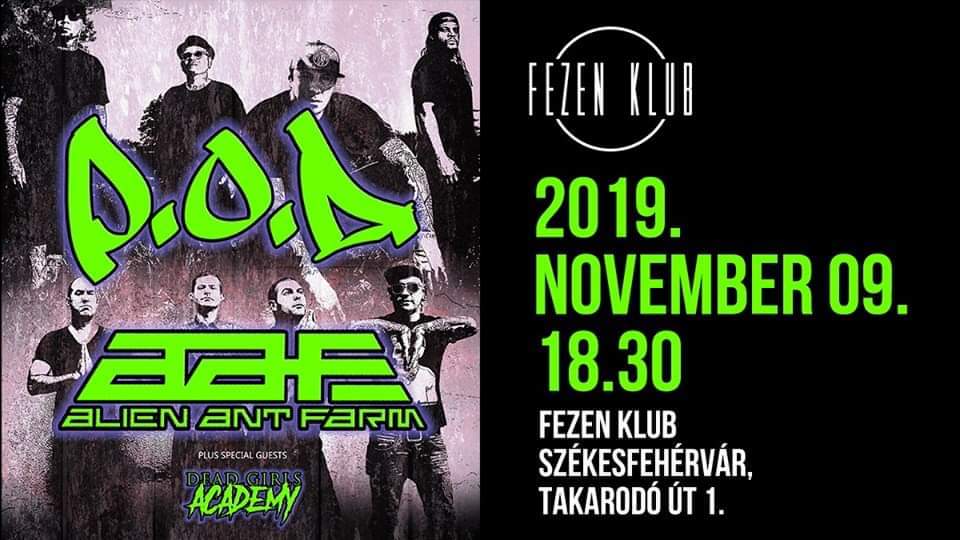 Valószínűleg nincs olyan metal-rajongó az országban, aki most ne kezdené el egyből dudorászni, hogy "eni ecsu oki, eni ecsu oki, eni". Ami természetesen Michael Jackson Smooth Criminal-jének refrénje, de az Alien Ant Farm úgy nyúlt hozzá majd' 20 évvel ezelőtt, hogy egyből gigasztárokká váltak tőle. Az összes ajtó megnyílt előttük és remek barátságokat kötöttek az akkori nagyokkal, mint a Papa Roach vagy éppen a P.O.D. A P.O.D.-től meg egyből eszünkbe jut, hogy Youth of the Nation és dúdolunk is tovább… Nos, körülbelül egy ilyen nosztalgiavonattal számolt a Fezen Klub is, amikor leszervezték a srácok turnéjának székesfehérvári állomását. Egészen kiemelkedő dolog, hogy végre nem csak Budapest jeleskedik neves klubkoncertekben, hanem a debreceni Roncsbár vagy éppen a tatabányai Roxxy mellé csatasorba áll a Fezen is! Még több ilyet, hogy a vidéki fiatalok is részesüljenek az ilyen finomságokból!
Jegyet sajnos már nem tudtok hivatalosan vásárolni, hiszen teltházas az esemény, de ha már esemény, akkor az eventet ajánlott nézegetni, hiszen a betegség és közbeszervezés miatt árvává vált tiketteket itt próbálják eladni a tulajok. Illetve a Ticketswap vonatkozó oldalát is tekintsétek meg, hátha szerencsével jártok!
Jam
A bejegyzés trackback címe:
Kommentek:
A hozzászólások a vonatkozó jogszabályok értelmében felhasználói tartalomnak minősülnek, értük a szolgáltatás technikai üzemeltetője semmilyen felelősséget nem vállal, azokat nem ellenőrzi. Kifogás esetén forduljon a blog szerkesztőjéhez. Részletek a Felhasználási feltételekben és az adatvédelmi tájékoztatóban.