November 19-én igazi hardcore barlanggá változik a Dürer Kert, hiszen visszatér hozzánk a Lionheart (US), akik nem kevesebb, mint négy illusztris, nem kevésbé zseniális bandát hoznak magukkal. Itt lesz a Deez Nuts (AUS), a Kublai Khan (US), az Obey The Brave (CAN) és a Fallbrawl (D).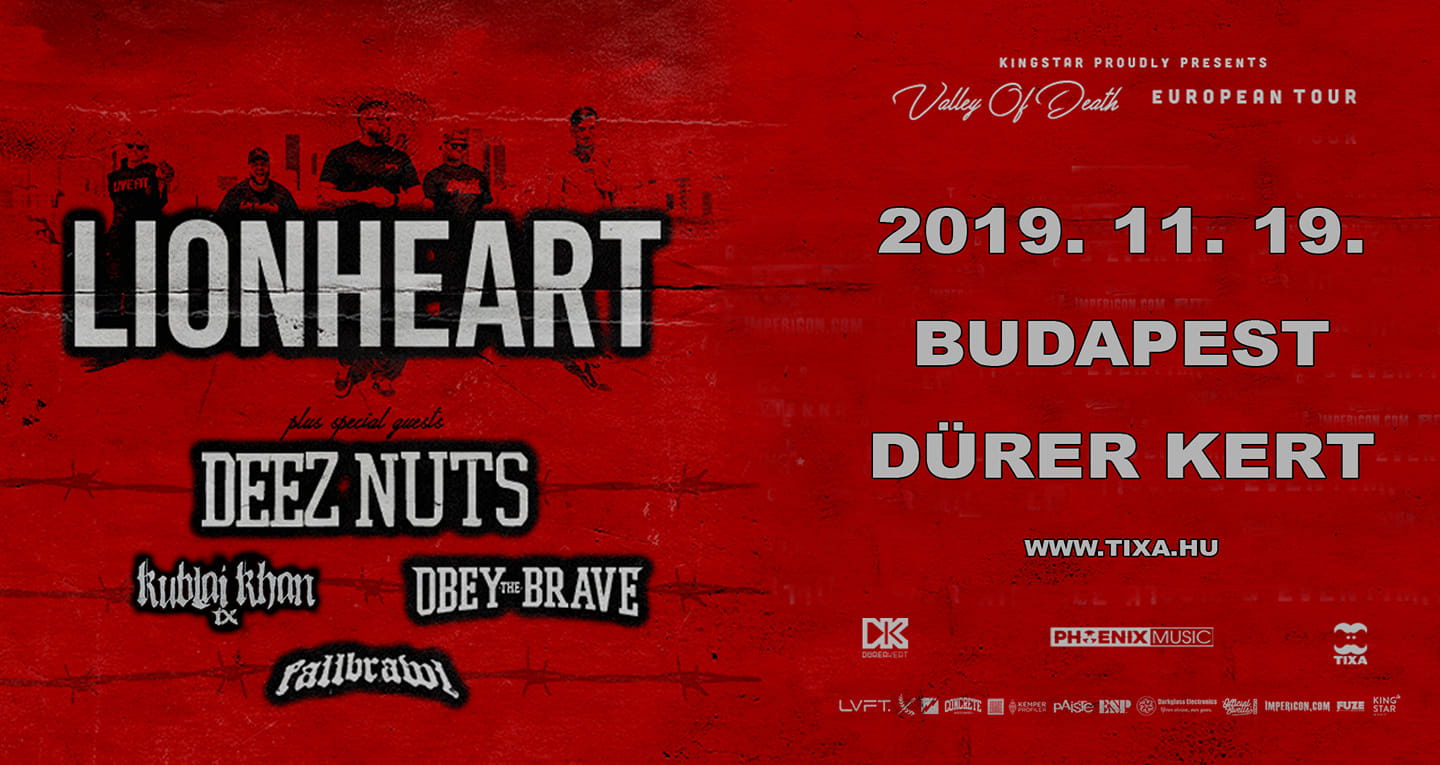 Egészen pontosan november 15-én jelentette meg legújabb lemezét a kaliforniai Lionheart Valley of Death címmel, úgyhogy pár napotok még van arra, hogy ronggyá hallgassátok és betanuljátok a szövegeket. De nem kell messzire menni újdonságokért, hiszen a Kublai Kahn is új lemezzel jelentkezett alig egy hónappal ezelőtt (Absolute), az Obey The Brave augusztusban hozta ki a Balance lehengerlően zseniális dalcsokrát, és akkor még a Deez Nuts új lemezéről meg sem emlékeztünk, ami szintén egy hónapja kezdte meg világhódító útját (You Got Me Fucked Up). Azt pedig reméljük, mondanunk sem kell, hogy az estét nyitó Fallbrawl legújabb lemeze is pár napja látott napvilágot Darkness címmel, úgyhogy még abból sem késő felzárkózni.
Jegyeket 5500 Ft-ért tudtok váltani a TIXA rendszerében, de ha erről lemaradtatok vagy szimplán nem szimpi, akkor még a helyszínen sem késő pótolni a koncert napján. Minden egyébről, menetrendről, infókról tájékozódni az Facebook event oldalán tudtok.
Jam
A bejegyzés trackback címe:
Kommentek:
A hozzászólások a vonatkozó jogszabályok értelmében felhasználói tartalomnak minősülnek, értük a szolgáltatás technikai üzemeltetője semmilyen felelősséget nem vállal, azokat nem ellenőrzi. Kifogás esetén forduljon a blog szerkesztőjéhez. Részletek a Felhasználási feltételekben és az adatvédelmi tájékoztatóban.