Az év utolsó havát is jó koncerttel kell indítani – gondolta a Phoenix Music Hungary, így december 1-jére a Dürer Kertbe elhozták az Attila (USA), a Veil of Maya (USA) és a Sylar (USA) hármasát. A deathcore és a progos metalcore szerelmesei tehát kapnak még egy utolsó szurit az év végi Jinjer előtt, hogy mindenki felkészült legyen!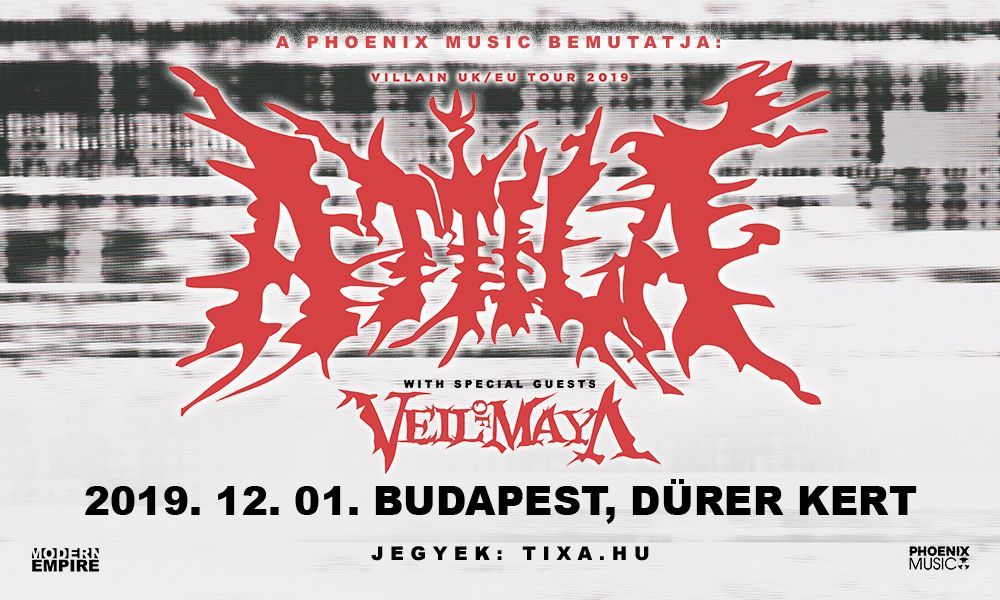 Az Attila valószínűleg annak is ismerős lehet, aki nem annyira éli ezt a műfajt (és most nem Gárdonyi Géza, vagy a történelemkönyvek miatt), hiszen ki az, aki dalt ír arról, hogy az ananász nem való a pizzára? Hát persze, hogy Fronz-ék! Jah, igen, a másik biztos pont a banda életében Chris Fronzak frontember, aki már annyi helyen működött közre és tűnt fel a jellegzetes hangjával és kinézetével, hogy tuti Te is láttad már valahol! És ha még ez sem lenne elég, akkor emellé az idei korong, a Villain egy egészen slágeres, némiképp meglepő, de mindenképpen nagyon jól működő dalcsokor lett, amire élmény lesz élőben is akrobatikázni. A másik nagyágyú, a Veil of Maya pedig éppen az új korongján dolgozik (egészen pontosan a harmadikon Magyar Lukas énekessel), és ha már egy kis hazai vonatkozása is van a bulinak, naná, hogy meg kell nézni! Én már pár éve láttam őket, és higgyétek el, Marc Okubo-ék olyat mutatnak, amit nagyon kevesen képesek ezen a színtéren. A bemelegítést a szintén amerikai, magukat hardcore-nak tituláló, de inkább nu-metal-ban erős Sylar fogja nyitni, úgyhogy ha finomabb hangokra vágynátok, az is lesz bőven!
Jegyeket 6.200 Ft-os áron tudtok venni a Tixa oldalán, illetve a koncert napján a helyszínen. Minden egyébről a hivatalos Facebook eseménynél tudtok tájékozódni.
Jam
A bejegyzés trackback címe:
Kommentek:
A hozzászólások a vonatkozó jogszabályok értelmében felhasználói tartalomnak minősülnek, értük a szolgáltatás technikai üzemeltetője semmilyen felelősséget nem vállal, azokat nem ellenőrzi. Kifogás esetén forduljon a blog szerkesztőjéhez. Részletek a Felhasználási feltételekben és az adatvédelmi tájékoztatóban.