Papa Emeritus, alias Tobias Forge, december 3-án este elhozta nekünk okkult színházát a Papp László Sportarénába és mindenkit elvarázsolt a humorával és a zenéjével. Viszont el kell ismernem, hogy igaza volt azoknak, akik azt mondták, hogy zeneileg sem rossz ez az egész Ghost mizéria, de látványelemekkel és a show-val együtt minimum ötször olyan erős. Melegített a svéd Tribulation és az amerikai All The Witches.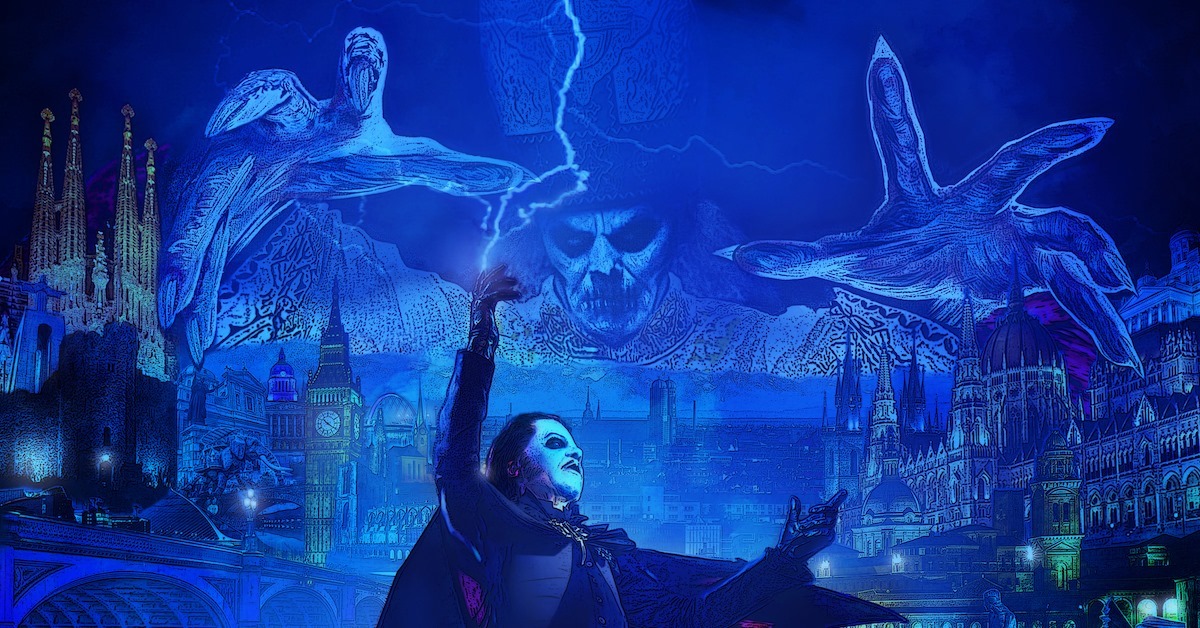 19.00-kor, még épphogy leadtam a kabátomat a ruhatárban, már hallottam is a Tribulation intróját felharsanni a küzdőtérről, úgyhogy kapkodtam is a lábaimat, nehogy lemaradjak valamiről. Őszintén, vakon repültem ezen az estén szinte végig – kivéve nyilván a Ghost-ot -, hiszen annyit tudtam erről a bandáról, hogy psychedelic rock/horror/black/heavy metal lesz. Ez a leírás pedig nagyjából fedte is a valóságot, bármennyire katyvasznak tűnik, ugyanis mindenből volt benne egy kicsi, csak sajnos pont azok az elemek voltak túlsúlyban, amiket nem kedvelek. Név szerint a psychedelic és a black metal hatások. Alapjában egy kellemes 40 percet nyomott a banda, séma szerint érkező heavy riffekkel és átlagosnak mondható dalszerkezetekkel. Viszont Adam Zaars gitáros (akiről egyébként az első 20 percben azt hittem, hogy lány, úgy mozgott és úgy öltözött fel) hangszerén annyi visszhang volt, hogy Tihany sikítva könyörög a receptért, ráadásul voltak olyan témái, amiket kellemetlenül hosszú ideig nyújtottak – itt ütközött ki a psychedelic rock-kal szembeni ellenérzésem. A másik negatívum Johannes Andersson vokálja volt, ami a suttogós black metal hörgést takarta, és ebből én maximum 4 percet bírok alapesetben, és Immortal ide, Abbath oda, nem érzem, hogy létjogosultsága lenne a világban. Viszont az vitathatatlan, hogy a horror hangulathoz ez is és az arcfestések is hozzájárultak, úgyhogy a produkcióra magára egy rossz szavam sem lehetne, ha nem úgy szólt volna a lábdob, mintha egy ceglédi kannát püfölnének egy atombunker mélyén. De ezen felül egyben volt az egész, csak nem találtuk meg egymást a stílussal. Viszont a közönség kajálta elég rendesen.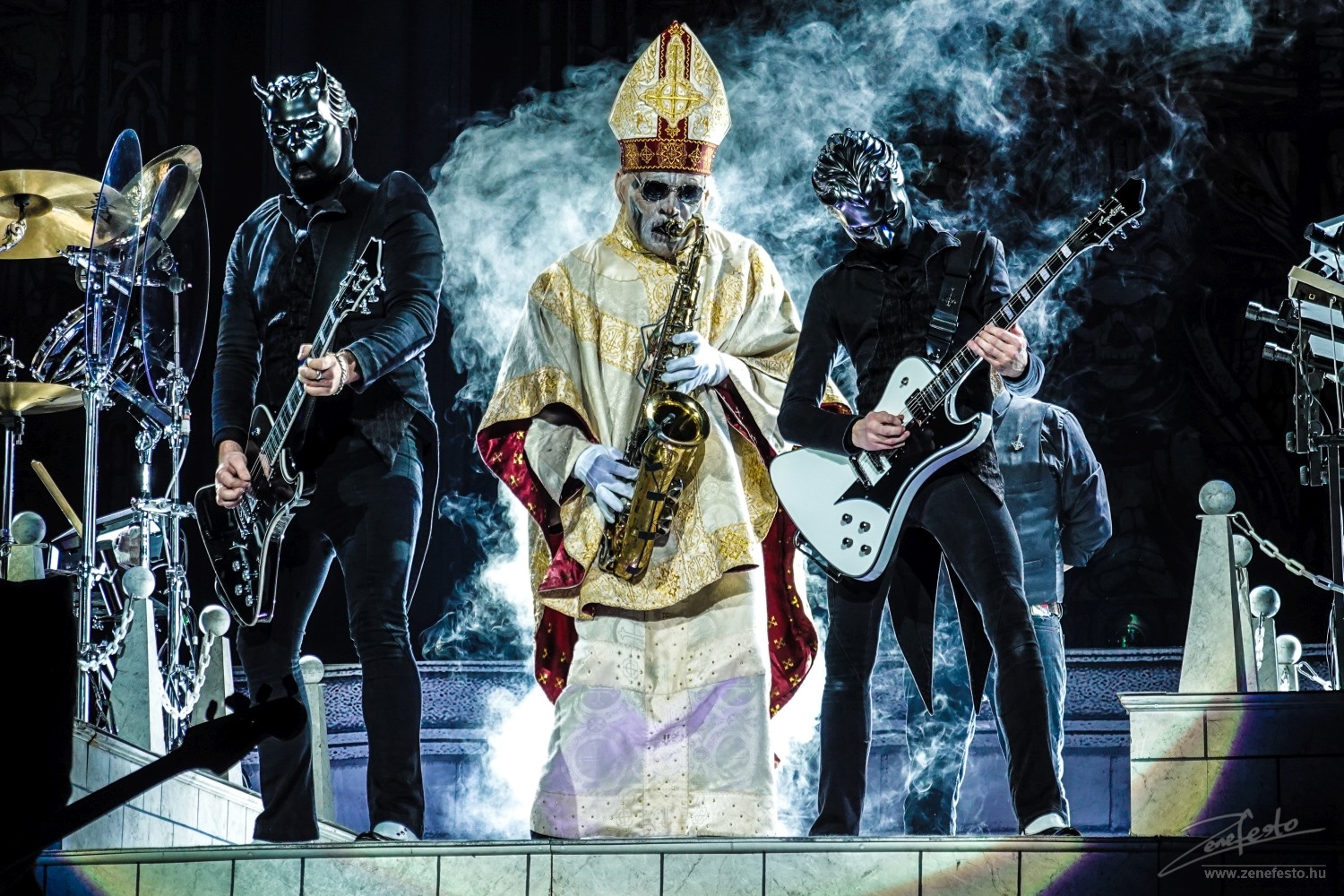 Kép: Zenefesto
Egy jó félórás átszerelés után jött másodiknak az All Them Witches, és amikor azt hittem, hogy a Tribulation használ sok psychedelic elemet, akkor még nem tudtam mi következik ezután… Konkrétan ötven percnyi agyeldobós szállás következett, némi blues rock-kal fűszerezve, ami az első két dal után kezdett átmenni egy olyan öncélú hangszermaszturbációba, amit már a közönség is egészen nehezen viselt. Elkezdtek az emberek kifelé szállingózni a büfébe, dohányozni, mosdóba… gyakorlatilag bárhova, hogy elüssék az időt a Ghost kezdéséig. Igazából az egész koncertből annyit lehetett megtudni, hogy Charlse Michael Parks Jr. énekes nagyon szereti Hollis Brown balladáját, Ben McLeod pedig egészen királyul tud gitározni. Nagy kár, hogy a magas, amit kispóroltak a basszusból, azt mind rátették a gitárra, ami ettől olyan elviselhetetlenül fülsiketítően visított, hogy csak lestem a körülöttem állók grimaszait, és együtt értetlenkedtünk az eseten. De legalább a dob végre jól szólt, s bár Robby olyan csúnyán dobol, hogy majdnem felsírtam tőle, de legalább bizonyította, hogy crash nélkül is lehet jól használni a cájgot. A levezető 5 perces, egy hangos őrületet pedig már meg sem említeném, hiszen ott már tényleg mindenki csak azt várta, hogy a srácok bontsanak már sátrat és jöjjön, aminek jönnie kell… Egyébként valahogy ez lehetett a megfelelője az "indokolatlanul hosszú tus"-nak.
A Ghost fél 10-kor kezdte meg nagyjából másfél órás menetelését, amit nem feltétlenül értettem, hiszen a színpad már bőven készen volt jó negyedórával korábban is, a díszletek pedig szerintem reggel óta fel voltak építve, másnap meg ugye mindenkinek munka van… Szóval kicsit talán soknak tűnt a várakozás, ráadásul az átszerelésnél felcsendülő Take On Me az A-Ha-tól, majd az AC/DC Highway To Hell-je még ugyan szórakoztatta a közönséget, de az utána következő 15 perc gyerekkórusos, komolyzenés aláfestése már inkább álmosító volt. No de, fél tízkor végre felharsant a Rats és megindult a nagybetűs SZÓRAKOZTATÁS. Nincs mit tenni, bármennyire is csak háttérzenének tudom hallgatni itthon, vagy kocsiban Ghost muzsikáját, ezzel a díszlettel és felépített műsorral még engem is elvarázsolt az egész. Nyilván zeneileg, ha akarnék sem tudnék belekötni, de nem is akarok. Minden zenész tudja a dolgát, tökéletesen és alázatosan dolgoznak Tobias Forge alá, aki hanyag eleganciával és lezser leszaromsággal celebrálja végig a koncertet (azt valaki mondja már meg, hogy hogy az istenbe… vagyis ördögbe nem kérték még fel Joker-nek ezt az embert???). Bár azt azért hozzátenném, hogy a show nettó 30%-ában nincs is a színpadon, ugyanis többször öltözik át, mint az Irigy Hónaljmirigyesek összesen, és emiatt annyi átvezetőt alkalmaznak (gitárszólók, instrumentális tételek, stb.), hogy minimum 15 perccel megdobja a játékidőt, de ezek legalább ötletesek és élvezetesek. Tobias hangja jól működött – még a wireless mikrofon túláradó magasától eltekintve is -, a vokál pedig, ami másik szólamban kísérte szinte végig, iszonyatosan sokat dobott az összhatáson. A szintis csajok szintén kitesznek mindig magukért, a basszer és a dob pedig olyan stabil, hogy házat… elnézést, templomot lehetne építeni rájuk! Az első 15 dal, ami a koncert szerves része volt, egy tökéletes ívet írt le, a végén pirotechnikával és hatalmas örömünneppel. Én a magam részéről itt be is zártam volna az estét, hiszen megvolt az ív és a csúcspont, nem volt már hova tovább… És igen, tudom, hogy vannak a kötelező slágerek (Dance Macabre, Squere Hammer, Mummy Dust…), amiket nem lehet kihagyni, de őszintén, nekem már nem adtak hozzá az estéhez. Inkább a levezetés volt már, semmint a csúcspont. Viszont összességében el kell ismernem, hogy a Ghost, mint jelenség tökéletesen működik és szórakoztatóbb, mint vártam. Az pedig, hogy az előzenekarokkal nem tudtam megbarátkozni, az már legyen az én problémám.
Jam
A bejegyzés trackback címe:
Kommentek:
A hozzászólások a vonatkozó jogszabályok értelmében felhasználói tartalomnak minősülnek, értük a szolgáltatás technikai üzemeltetője semmilyen felelősséget nem vállal, azokat nem ellenőrzi. Kifogás esetén forduljon a blog szerkesztőjéhez. Részletek a Felhasználási feltételekben és az adatvédelmi tájékoztatóban.