Kedden, azaz december 17-én ismét olyan csomagot tol az arcunkba a Dürer Kert és a Phoenix Music Hungary, amit egy ideig még biztosan emlegetni fogunk. Nem elég, hogy Drew Yorkék felszántják a színpadot, de érkezik velük a The Devil Wears Prada, a Gideon és a Loathe is.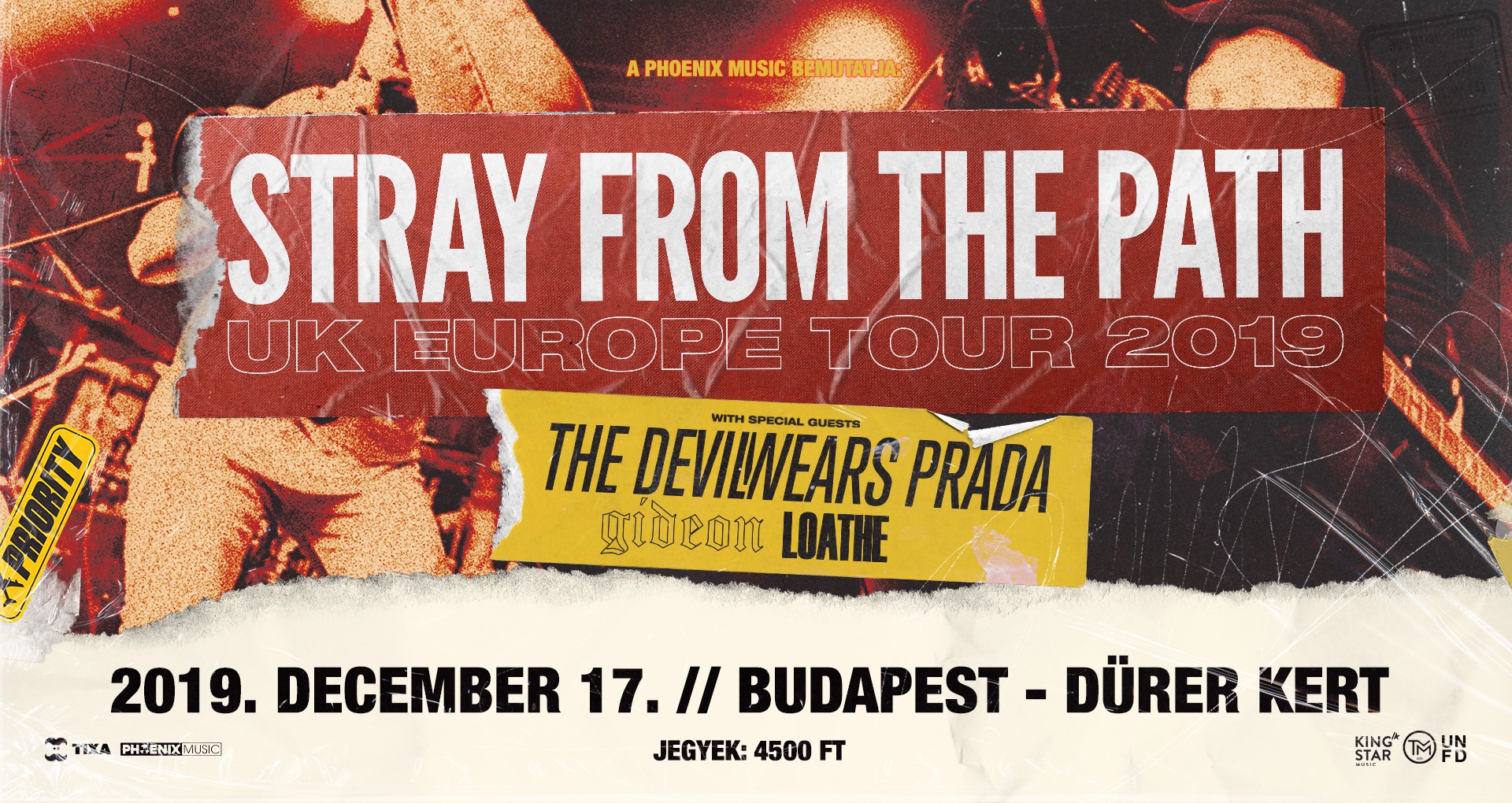 Mióta kihozta legújabb lemezét a Stray From The Path, azóta szinte nem is pörgött más a lejátszómban, annyira rabul ejtett az Internal Atomics dalcsokra, ráadásul ez már nem az első eset a srácoktól az utóbbi pár évben. Emellett a színpadi jelenlétük olyan megkérdőjelezhetetlenül energikus és zseniális – sikerült már tapasztalnom, hogy vétek lenne kihagyni a keddi ceremóniát. Nagy valószínűséggel az új korong tételei lesznek túlsúlyban, de a nagy klasszikusok is előkerülnek majd, úgyhogy aki Black Friday-re vagy Only Death Is Real-re kíváncsian érkezik, az is jól fog lakni. Ha pedig más stílusok felé is kacsintgatnátok a hardcore-on kívül, akkor sem kell csüggedni, hiszen a melodic metalcore/post-hardcore-ba átfordult The Devil Wears Prada hozza majd a finomabb hangokat és a tisztább dallamokat; a Gideon döngöldéje biztosítja majd a nyakizmok kellemes megfáradást a sok bólogatás közepette; a Loathe mocskolódása pedig az idei Parkos buli után ismét bizonyítja majd, hogy náluk dirtybb zenekar nem sok van most a szcénában.
Jegyeket 4500 Ft-ért tudtok venni a Tixa rendszerében, vagy 5500-ért a koncert napján, a helyszínen. Kapunyitás 18.30, minden másról az eseménynél tudtok tájékozódni.
Jam
A bejegyzés trackback címe:
Kommentek:
A hozzászólások a vonatkozó jogszabályok értelmében felhasználói tartalomnak minősülnek, értük a szolgáltatás technikai üzemeltetője semmilyen felelősséget nem vállal, azokat nem ellenőrzi. Kifogás esetén forduljon a blog szerkesztőjéhez. Részletek a Felhasználási feltételekben és az adatvédelmi tájékoztatóban.