Vasárnap este majdnem teltház előtt mutathatta be legújabb EP-jét - Selective Hearing, 2017 - a New Hampshire-i kvartett, és mindent meg is tettek, hogy ez legközelebb már ne csak majdnem legyen. A bemelegítésről olyan bandák gondoskodtak, mint az arizóniai Blessthefall és a The Color Morale helyére beugró New Volume.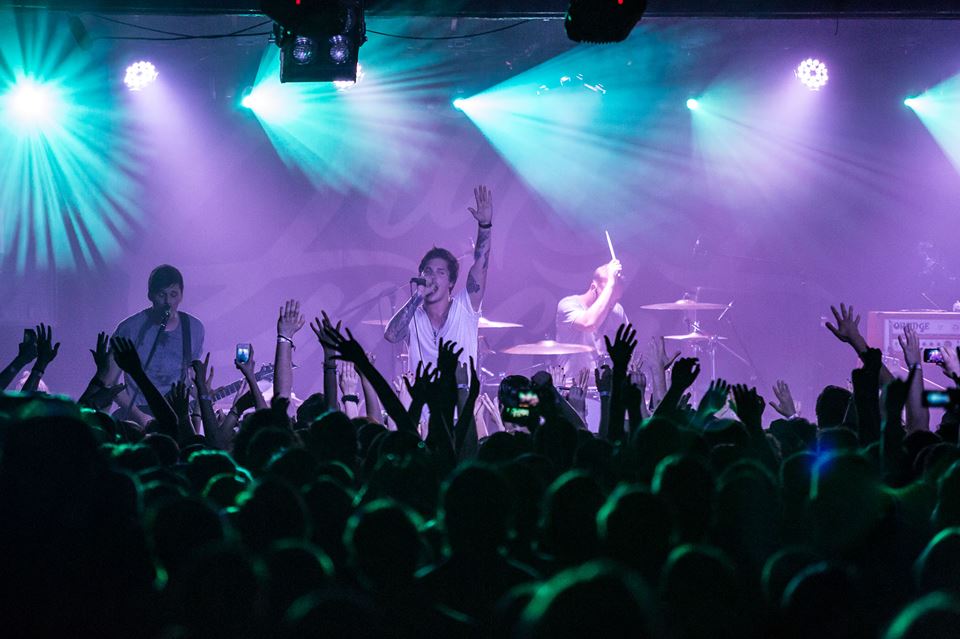 Ritka az, amikor úgy megyek koncertre, hogy jobban várom az előzenekart, mint a főbandát, viszont ez az este ezen esetek közé sorolandó. Valószínűleg egyébként ez nememből és életkoromból, valamint szexuális beállítottságomból adódik, ugyanis elmúltam már 20 éves, fiú vagyok és a lányokat kedvelem. Ilyen elvárásokkal nyilván nem én vagyok a célközönsége egy olyan bandának, akik a nedvesedő tinilányok álmaiban szerepelnek, de mindemellett hozzá kell tennem, hogy jól szórakoztam. De menjünk csak szépen sorjában, hiszen a bejutás azért okozott némi gondot.
Alapjában nem értem azt, hogy ha egy esemény majdnem teltházas, akkor hogy lehet fél órát hagyni a kapunyitás és az első banda kezdési időpontja között? A táskák átkutatása, a jegyek ellenőrzése, a karszalagok felrakása bőven vesznek annyi időt igénybe ennyi embernél, hogy az egyszeri újságíró a folyosóról hallgassa végig a New Volume első másfél dalát még úgy is, hogy 45 perce ott áll a sorban és araszolva halad befelé. A biztonság fontos, nyilván erről szól most szinte minden esemény az egész világon, de talán az még fontosabb lenne, hogy a nyitóbanda ne félház előtt játsszon, mert a tömeg fele még befelé araszol. Nonszensz! Ettől függetlenül meg kell dicsérnem a dél-afrikai-angol New Volume-ot, hiszen baromi hangulatos félórát prezentáltak nekünk. Tyron hangja baromi jó, a dalok pedig kellemesek és dúdolhatóak, még úgy is, hogy fogalmam sem volt, milyen zenére kell számítanom tőlük. Így kell megnyitni egy estét!
Számomra a Blessthefall volt az est fénypontja, hiszen még nem láttam őket élőben, pedig igencsak a szívem csücskei a srácok. Ezt a fajta mentalitást meg is hálálták, hiszen az a 40 perc, amit a színpadon töltöttek, az maga volt a katarzis. Elővették a legnagyobb slágereket és hibátlanul zenélve és énekelve hozták le az estét, ahogy az a nagykönyvben meg van írva. Bár kicsit féltem, hogy a közönség összetétele nem fog kedvezni Beau-éknak - meg hogy Beau nem fog úgy énekelni, ahogy kéne -, mégis azt kell mondanom, hogy mindenki vette a lapot, a circle pit elindult, a wall of death csattant, az éneklések pedig több száz torokból szálltak a magasba. Plusz Beau is tiszta volt, úgyhogy megnyugodtam. Megkapták a srácok azt a vibrálást, ami kijárt nekik.
Aztán jött a Wentworth tesók vezette Our Last Night és a közönség megőrült. Szó szerint füldugót kellett használnom, mert nem bírta a fülem az ezer torokból szálló sikításokat. Ekkor értettem meg, hogy a Blessthefall mégsem kapta meg a neki kijáró ovációt, viszont senki más sem, akikre eddig elmentem a Dürer Kert-be, pedig higgyetek nekem, nem egy világhírű bandát volt szerencsém már itt elcsípni. Éppen ezért mondom azt, hogy ez a rajongásnak egy egészen másik szintje, ami nem is biztos, hogy a zenének szól. Nincsen amúgy ezzel semmi baj, hiszen a srácok valóban zseniálisak zeneileg és azt a rengeteg feldolgozást is rendesen odapakolták a youtube-on, amiből a népszerűséget szerezték. Ennek ellenére mindössze kettőt vettek elő a másfél órás - baromira hosszú, elég lett volna kevesebb is - szett alatt, ami dicsérendő. Nem egy cover-zenekarért jöttem, hanem hogy megtudjam, kik is a srácok valójában. Erre pedig bőven volt lehetőségem, hiszen bár az új EP-t népszerűsítő körúton vannak, mégiscsak headlinerek, így kötelezően minden érából játszani kellett. Éppen ezért is örültem annak, hogy egy gitárossal, tiszta valójukban tárták elénk a dalokat. Ráadásul amilyen gitártémák közben amilyen dallamokat énekel Matthew, az iskolai példaként is szolgálhatna a legtöbb gitáros-énekes számára. Persze volt azért bőven hamis hang, de amikor ezren üvöltenek veled együtt és extázisban ugrálsz másfél órája a színpadon...mégis kit érdekel? Egy picit engem azért igen, de szerintem rajtam kívül nem sokakat, úgyhogy megvettem ezt az estét úgy, ahogy volt. Háromból három banda nyújtott remek szórakozást, én pedig ezért érkeztem. Legközelebb ugyanígy!
Jam
A bejegyzés trackback címe:
Kommentek:
A hozzászólások a vonatkozó jogszabályok értelmében felhasználói tartalomnak minősülnek, értük a szolgáltatás technikai üzemeltetője semmilyen felelősséget nem vállal, azokat nem ellenőrzi. Kifogás esetén forduljon a blog szerkesztőjéhez. Részletek a Felhasználási feltételekben és az adatvédelmi tájékoztatóban.