Caleb Shomo munkásságát az utolsó Attack Attack! album óta követem és imádom, ugyanis onnantól kezdve egy hibátlan, felfelé ívelő karriert tudhat a magáénak, ami kis botlásokat igen, de bukást egyáltalán nem tartalmazott. Emellett egy végtelenül tehetséges zenész, aki az első két Beartooth lemezt teljesen egyedül hozta össze. Lássuk, mit alkotott most egy teljesértékű banda tagjaként?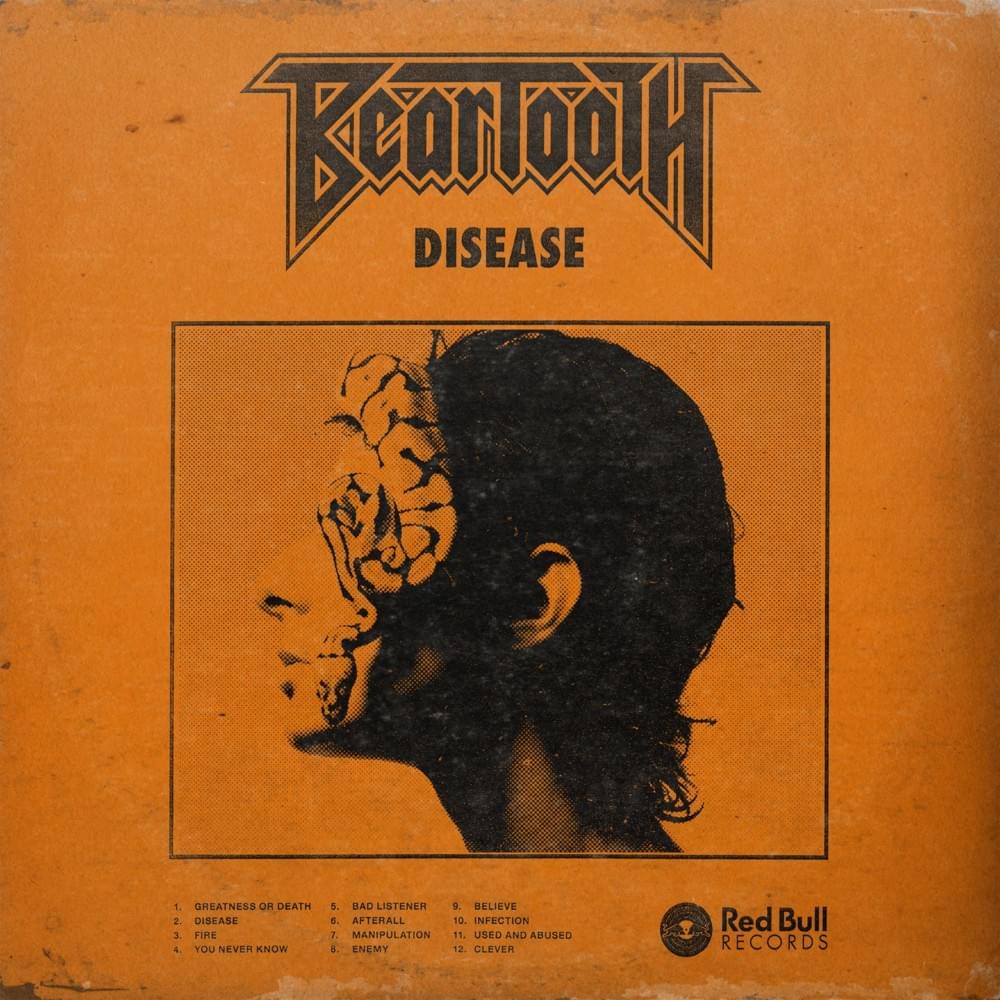 Baromira vártam már tehát a Disease megjelenését, mert az elsőként kihozott címadó kapásból felelevenítette az elmúlt pár évet, hogy mennyiszer hallgattam meg egyedül és a cimboráimmal, zenészpajtásaimmal együtt is a Disgusting és az Aggressive dalait, miközben mosolyogva vitattuk meg, hogy ez az ember mennyire nem normális. Éppen ezért az elvárásaim is e felé tendáltak: durvaságot akartam kapni, lendületet, zseniális dallamokkal átszőtt refréneket és az egészet átitató, megbolondító (megborító, tess, megborító!) őrületet. Most, hogy már vagy nagyonsokadjára pörög az album, elmondhatom, hogy mindent megkaptam Calebtől és kis zenészbrigádjától, csak éppen a legfontosabb összetevőket, a sodró lendületet és az elborultságot nem. Ez pedig nekem kőkemény negatívumként jelenik meg az értékelési szempontoknál, mert a hangján kívül ez különböztette meg Calebet a többi hardcore-punk énekestől: hogy életteli, a környezetbe illeszkedő agymenésekkel fűszerezte az előadásait (I Have A Problem, King Of Anything, Sick & Disgusting). Most pedig átment az egész egy sokkal cizelláltabb, kevésbé érdekes, viszont sokkal profibban összerakott gyurmába, ami jó is, meg nem is. Kicsit elvettek a gumicukromból, de hoztak helyette csokit. Csak az a baj, hogy én sokkal jobban szeretem a gumicukrot…
De mindenesetre azt egy pillanatig se gondoljátok, hogy rossz albummal lenne dolgunk, hiszen ha Caleb elkezd énekelni, akkor ott már nem lehetnek akkora gondok, hiszen egészen élvezetes hangszínnel lett megáldva a srác, és használni is kiválóan tudja a hangját. Talán az tűnt fel leginkább, hogy sokkal több az éneklés (és ó-zás, hallod Jared Leto???), mint a korábbi lemezeken és sokkal kevesebb az acsarkodás meg a screamelés. Ez alapvetően nem egy hatalmas probléma, mert a melódiák teljesen rendben vannak (Used And Abused, Afterfall, Believe, Disease), viszont ezzel együtt talán a lendület is kicsit alábbhagyott. Ez viszont már nagyobb probléma a szememben, mert a Dead, a The Lines, az I Have A Problem, a Beaten In Lips, a Hated (és még sorolhatnám), olyan alapokat fektettek le, amelyekhez nem igazán passzol ez a korong. Másik oldalról nézve a dolgokat meg az van, hogy itt is van Fire, meg…meg… jah nem, bocs, egyedül a Fire diktál egy erősebb tempót, a többi dal mind a bólogatós, ugrálós oldalt választotta, úgyhogy a circle piteket elrakhatjuk a farzsebbe, nem fognak már kelleni. Ez pedig szomorú. Ami még ennél is szomorúbb, hogy a dobgroove-ok és a gitárriffek nem egyszer egészen hasonló felépítésben dolgoznak az egymást követő dalokban, ez pedig egészen hamar desszertízt képes előidézni a szájban. Viszont nem feltétlenül van azzal baj, hogy panelekből építkezik egy banda, ha a vokálok és a szövegek elviszik a hátukon az egészet, ám amikor a breakekben is azt venni észre, hogy majdnem ugyanez volt két dallal ezelőtt is ("0000, három hang fel, 0000, három hang le" – sokszor!), akkor azért már felszalad az egyik szemöldököm. Ha pedig a szövegek sem a legacélosabbak, akkor kezdi érezni az ember, hogy Calebék kicsit megroppantak az elvárások súlya alatt. Talán kellett volna még egy év a kiadótól, amit arra használhatnak, hogy kigyomlálják az ilyen bántó dolgokat, mert a kezdés (első 3 dal) és a befejezés (utolsó 3-4 dal) teljesen korrekt és élvezetes, viszont középtájt becsúszott pár lapos pillanat.
Én pedig szeretem annyira Caleb Shomo munkásságát, hogy zokon vegyem tőle, ha nem a maximumot hozza ki egy lehetőségből. Igen, ez már nem egy egyszemélyes banda, nem kell minden terhet neki cipelni, de ha ez azzal jár, hogy Disease lemezt kapunk Disgusting helyett, akkor én inkább várnék még két évet is, csak jöjjön az a minőség! Még egyszer hangsúlyozom, teljesen korrekt ez a lemez, csak a hardcore punk helyett itt már inkább a rádiórock dominál, üvöltésekkel fűszerezve, a lendület és az oly jellemző őrültség teljesen elfogyott, a szövegek kevésbé személyesek és mélyek… Tehát a pozitívumok oldalára a hangzás és a dallamok továbbra is fogósan és fülbemászóan prezentált megírásán kívül csak egy-két megmozdulást tudunk felvésni, ami azért eléggé kevés… Főleg egy olyan bandától, akikben ennél messze-messze több a potenciál.
Jam
A bejegyzés trackback címe:
Kommentek:
A hozzászólások a vonatkozó jogszabályok értelmében felhasználói tartalomnak minősülnek, értük a szolgáltatás technikai üzemeltetője semmilyen felelősséget nem vállal, azokat nem ellenőrzi. Kifogás esetén forduljon a blog szerkesztőjéhez. Részletek a Felhasználási feltételekben és az adatvédelmi tájékoztatóban.