Bár a szervezés A38-as, mégis a Dürer 041-es termében csendül majd fel a The Word Alive összes klasszikusa május 6-án, azaz hétfőn. A felvezetésről is sikerült úgy gondoskodni, hogy akik nem annyira hívei Telle Smith legénységének, azok is találjanak kedvükre valót, hiszen jön az Of Virtue, a Make Them Suffer és az AVIANA is.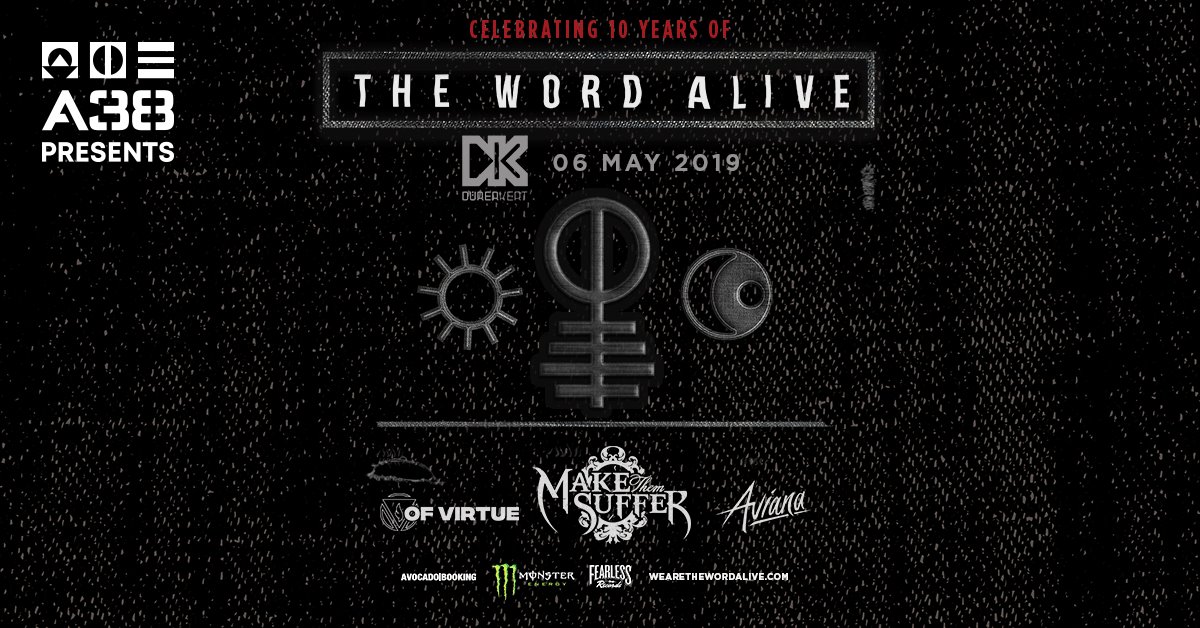 A tavalyi lemezzel ugyan nem gurított hatalmasat a phoenexi csapat, de a Violent Noise előtti albumok bőven felvonultattak annyi slágert, hogy ne csak a metalcore szerelmesei, de a dallamos rockzene kedvelői is találjanak egy-két gyöngyszemet a The Word Alive életművében. Előbbieknek a debütlemez és a Life Cycles, míg utóbbiaknak a hármas és négyes korong tartogatott kellemes pillanatokat, míg a Violent Noise egy olyan hibrid lett, ami se ide, se oda nem tartozik igazán. Mégis, a banda az elmúlt 10 évben folyamatosan úton volt és megállás nélkül gyártotta a hallgatnivalót, tehát egy termékeny, életerős bandáról beszélünk, akik kitanulták a szakma csínját-bínját, így egy profi, összeszedett műsorral kedveskednek majd rajongóiknak. A Make Them Suffer már rutinból fogja darabokra szaggatni a magyar közönséget, míg az Of Virtue és az AVIANA is éppen új dalt hozott ki a vadiúj lemezeik felvezetéseként, ami bizonyítja, hogy rajtuk sem fogunk unatkozni. Mivel májusban relatíve kevesebb lesz a keményzenei koncert, ezért egyértelműen ott a helye mindenkinek a Dürerben, aki szimpatizál bármelyik bandával, vagy úgy általában a műfajjal!
Jegyeket itt tudtok venni 3800 Ft-os elővételes áron, míg a koncert napján, a helyszínen 4500-at kell majd kiadni a belépőkért.
Jam
A bejegyzés trackback címe:
Kommentek:
A hozzászólások a vonatkozó jogszabályok értelmében felhasználói tartalomnak minősülnek, értük a szolgáltatás technikai üzemeltetője semmilyen felelősséget nem vállal, azokat nem ellenőrzi. Kifogás esetén forduljon a blog szerkesztőjéhez. Részletek a Felhasználási feltételekben és az adatvédelmi tájékoztatóban.