Szerdán, azaz február 12-én megkaptuk az év legjelentősebb deathcore eseményét, hiszen a Thy Art is Murder mellett olyan bandák kapták le az arcunkat, mint a Carnifex, a Fit For An Autopsy, a Rivers of Nihil vagy az I Am. Hosszú este volt, fárasztó este volt, de azt hiszem, abban egyetértünk, hogy minden pillanata megérte!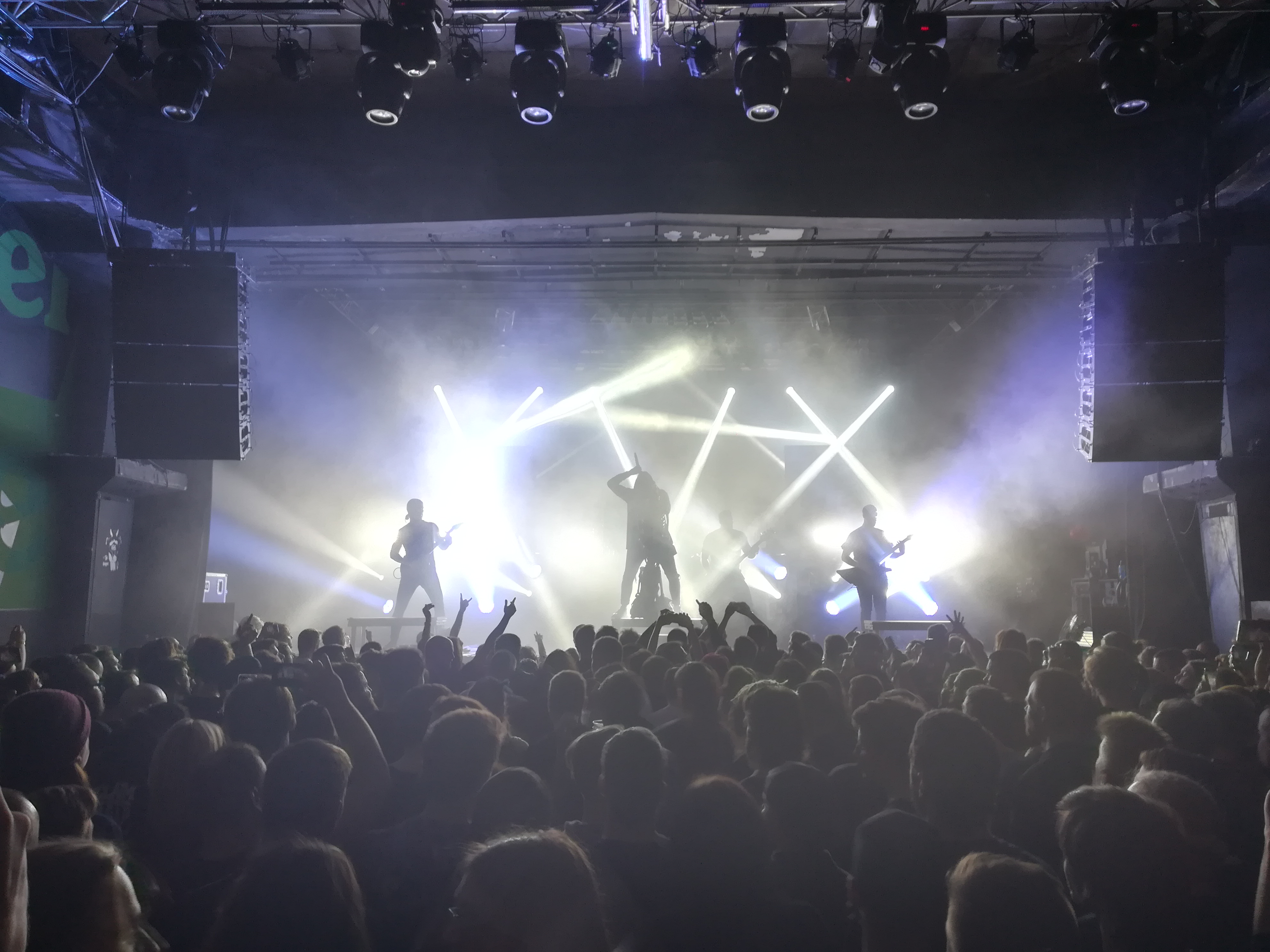 Korai kezdéssel indultunk, hiszen 18:30-kor már a színpadon volt az I Am gárdája, akik texas death elnevezésű zenéjükkel igyekeztek felkelteni a már amúgy egészen népes tömeg érdeklődését. Aki éli a mocsárszagú, lassú, súlyosan riffelgetős muzsikát, stoneres, sludge-os beütéssel, annak valószínűleg be is jött, amit Tom Reyes-ék műveltek, de őszintén, onnantól, hogy Andrew Hileman fellépett a színpadra, csak arra tudtam gondolni, hogy ő az As I Lay Dying-ban sokkal jobb… Hiszen a csávó annyira hasonlított Tim Lambesis-re, hogy nem tudtam nem párhuzamot vonni közöttük. A zene egyébként hozta a délies kliséket, néha azt éreztem, hogy ha tovább lassulnak, akkor már hátrafelé indulnak el, de ha már texas meg durvulás, akkor én inkább a Kublai Khan és az Upon a Burning Body mellé tenném le a voksomat. Nem volt gond a srácok muzsikájával, eléggé élte a közönség is a bólogatást, bár én az ötödik számnál eszméltem rá, hogy nem az, hogy nem hallom a duplázót, hanem hogy eddig NEM VOLT! Egy deathcore bulin… az azért nem piskóta. Szerencsére nem volt olyan hosszú a buli, hogy megunjam, úgyhogy jöhetett a következő!
Akik a Rivers of Nihil voltak és te jó ég! Na, itt megkaptam az összes duplázást (is), ami kimaradt az előbb, hiszen Jared Klein egy pillanatra nem volt hajlandó leszállni a pedálokról! Itt már a színpadkép is összeszedettebb volt, Adam Biggs basszusjátéka valószínűleg az egész este legkiemelkedőbbje volt – bárcsak jobban hallatszott volna, hogy miket tappingel -, Jake Dieffenbach énektechnikája elismerésre méltó, a huszáros öltözéke pedig (vagy mi a szösz volt az?) külön tapsot érdemelt. Egyedül talán a gitáros szekciót nem hallottam annyira kiemelkedőnek, ugyanis a szólókon kívül csak ment az egy sima-egy szűkített-egy fél hangot le, és nagyjából itt meg is voltunk. Nem volt ezzel baj, nem kell mindenkinek Fit For An Autopsy szintű riffeket hozni, de értitek…
Szóval, ha már így felvezettem, én egyértelműen a FFAA miatt jöttem elsősorban, hiszen a tavalyi lemez, a The Sea of Tragic Beasts igencsak megkajált reggelire és érdekelt, hogy ez hogyan működik élőben. Kérem alássan, nagyon! Sajnos azt kell mondanom, hogy a Fit For szólt a leggyengébben az este folyamán, legalábbis a bárpult-mosdó környékén szinte élvezhetetlen volt, amit hallottam. Aztán mikor visszakeveredtem középre, ott már javult a helyzet, de pont Josean Orta dobjátéka nem ütött így akkorát, amekkorát vártam. Ahogy a flegma rágózásával hozza a gyorsabbnál gyorsabb témákat, az maga a csoda! Itt még egy fokot tudott lépni az este felfelé, Joe énekteljesítménye szenzációs volt, még a féltorkos üvöltéseket is elnéztem, a gitárosok pedig úgy hozták a riffeket, ahogy azt el is vártam a lemez alapján. Minden krüttyögés, sípolás, fret noise a helyén volt, imádtam! A Black Mammoth pedig egyértelműen egy undorítóan gyönyörű befejezése volt a szettnek, ha lehetne himnuszt választani az estének, nyilván ez lenne az!
A Carnifex jött negyediknek, akik a vörös-sárga látképpel szintén eggyel egységesebbé tették a fellépésüket az előző bandákénál, itt már érződött a koncepció. Mint ahogy érződött az arcfestéseken is, viszont ettől még nem tudtam megszeretni a zenéjüket se eddig, se most. Megy a blastolás magas üvöltéssel, majd megy a break mély üvöltéssel 40 percig, szökő évente ez változik, de ennyi. Kész. Jó, nem akarok tuskó lenni, igazából jók voltak a szólók nagyon, Shawn Cameron sem kapott szívrohamot a 30. percben a cájg mögött, mint ahogy vártam a huszonhetedik blastolásnál, a pengetősök daráltak, mintha disznóvágáson lennének, Scott pedig… Scott, akkor is eladja a showt, ha nincs is. De most volt, hiszen a közönség baromira adta magát, de igazán a régi klasszikusoknál indult el a buli, a végén a Hell Chose Me pedig tökéletes lezárásnak bizonyult.
Aztán nem sokkal 22.00 előtt felharsant a Vengaboys We Like The Party! című slágere (nem vicc, tényleg ezzel nyitottak) és berobbant a Thy Art Is Murder, akiket, bevallom, sokkal túlértékeltebbnek tartottam annál, semmint hogy ekkora hype alakuljon ki rájuk. És itt most meg is követném magam, ugyanis ez a performansz elképesztően profi volt! Ismét szintet lépett a hangzás, a színpadkép, a buli hőfoka, az emberek lelkesedése, stb, stb, egyszóval minden. Egyszerűen annyira összeszedetten és vérprofin hozta le az egész estét a zenekar, hogy komolyan, bármikor beneveznék a következőre – amint megszűnik a csöngés a füleimben. A setlist változatosan hozta a régi klasszikusokat és az új lemez dalait, de érezhetően a Holy War-nál (nagyjából a buli felénél) volt a fordulópont, ahol a közönség teljesen elvesztette a kapcsolatát a külvilággal és eljutott a csúcsra. Ekkor már nem tudtam olyan messzire menni a színpadtól, hogy ne érjen el a pit, ne vegyek részt az ugrálásokban és sajgó nyak ide vagy oda, headbangeltem is a végégig. A Reign of Darkness nyitányánál még egy kis evezés is kialakult a hardcore fanok által, ami baromi jól nézett ki, csak utána nagyon fájdalmas volt felkelni. De hát, mit panaszkodik az ember, ha deathcore buliba megy, nem? CJ McMahon egyébként pedig a világ egyik legstabilabb torka, egyszerűen nem értettem, hogy hogy nem fogy ki soha a szuszból… Minden hangszínen IS tud üvölteni, károgni, gyomorból, torokból, akárhonnan, mindezt játszi könnyedséggel, gepárdmintás ingben. Egy cimborám szerint kifejlesztette a seggen át lélegzés technikáját és egészen eddig ezen röhögtem volna, de most komolyan elgondolkodtam a lehetőségen! Illetve Jesse Beahler-t emelném még ki a dobok mögött, aki nyilvánvalóan a legjobb dolog, ami csak történhetett a Thy Art-tal az elmúlt években. Élvezet volt nézni a srácot az emelvényen.
Szóval összességében egy baromi erős estét tudhatunk a hátunk mögött, ami bebizonyította számomra, hogy a Thy Art Is Murder miért tart ott, ahol. A hangzás meglepően jó volt, bár lehet, hogy csak a múltkori Slipknot miatt értékeltem ennyire, hogy hallom a színpadon lévő emberek hangszereit, miközben játszanak rajtuk… Nem mondom azt, hogy nem fáradtam el öt banda alatt, ráadásul műfajából adódóan eléggé meg is fekszi az ember gyomrát egy-egy ilyen produkció (gondoljunk csak a vetítésekre a Thy Art alatt, hidegrázás), de ettől még elvitathatatlan, hogy a Concerto Music az év deathcore buliját hozta el nekünk. Még ilyet!
Jam
A bejegyzés trackback címe:
Kommentek:
A hozzászólások a vonatkozó jogszabályok értelmében felhasználói tartalomnak minősülnek, értük a szolgáltatás technikai üzemeltetője semmilyen felelősséget nem vállal, azokat nem ellenőrzi. Kifogás esetén forduljon a blog szerkesztőjéhez. Részletek a Felhasználási feltételekben és az adatvédelmi tájékoztatóban.