Egy éven belül már harmadszor járt nálunk február 19-én a metalcore alapbanda, ezúttal a Prong, a Dust Bolt és a Sinaro társaságában. Az A38 adott otthont a bálnak, ami már tavaly is remek helyszínnek bizonyult, hiszen a Darkast Hour-ral közösen már fullra tette a banda a bárkát. Annyit elárulhatunk mindenféle spoiler nélkül: most sem okoztak csalódást!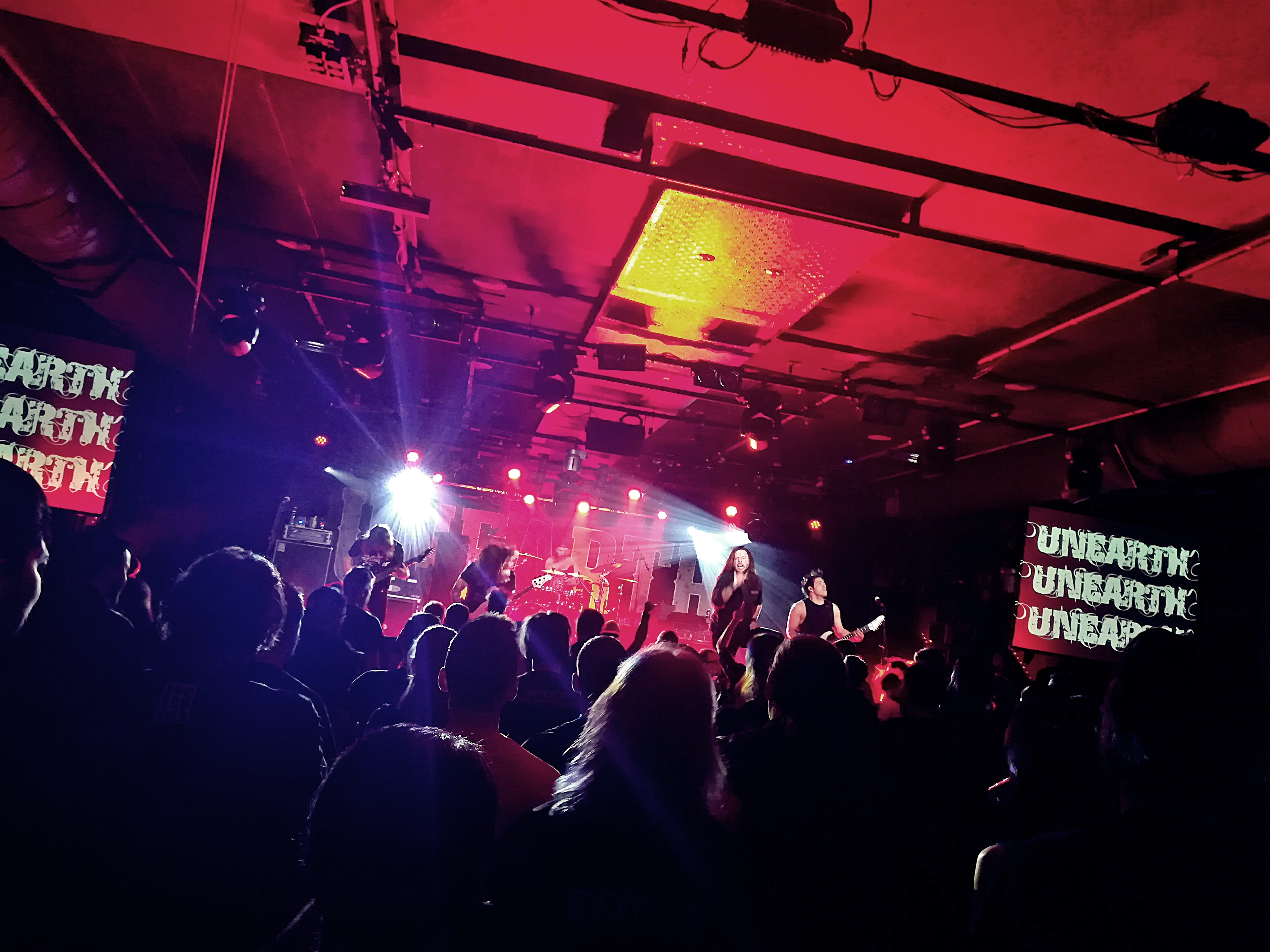 Kapásból egy egészen unikális eseménnyel kezdődött az este, hiszen a kiírt 19:15-ös kezdés elcsúszott egy negyedórával, ami a Hajóval közös történelmemben – és az nem ma kezdődött - még nem fordult elő. Sebaj, van ilyen, meg amúgy is alig lézengtek még a teknő gyomrában, úgyhogy a Sinaro kicsit kivárt. Aztán a színpadra léptek a srácok és beigazolódott, hogy valóban egy Trivium light-ról van szó, ami kinézetben, dalok szerkezetében, technikában, de még énekhangban is annyira hozza Matt Heafy-éket, hogy esküszöm vártam, mikor lesz In Waves. Aztán persze nem lett, mert a szűk félórás játékidőt az első megjelent lemezük promózásával töltötték a srácok és hát felemásak az érzéseim. Az elején baromi jó volt Sinaro hangja (Tesco gazdaságos Heafy, khm…), aztán a sok üvöltözést követően már sem a tiszták, sem az üvöltések nem hozták a szintet a későbbi dalokban. A másik, hogy a ritmusgitár sokkal hangosabbra lett keverve, mint Mr. Sinaro gitárja, holott ő lett volna a névadó, az attrakció, aki majd leszólózza a fejünket a helyéről. Ez hellyel-közzel meg is történt, csak nem mindig lehetett kristálytisztán érteni, mi is történik éppen. Ellenben a másik gitárost dicséret illeti, hiszen kiváló témákat hozott, ráadásul sokkal jobban is hörgött, mint kollégája, úgyhogy én adtam. A szett szerencsére nem volt hosszú s bár a közönség nemigen élte a bulit, a végére a zenekar kitartása csak kicsikart belőlünk némi lelkesedést. Már csak azt az egyet magyarázza meg valaki, hogy a dob az elején miért úgy szólt, mintha a Gál I. lakótelep 702. hetedik emeletéről hallgattam volna, ahogy egy garázsban próbálnak a suhancok…?
A csúszás maradt a német Dust Bolt-ra is, akik átpakolták a színpadot, majd se Guten Tag, se intró, se semmi, már tolták is a bulit, egyentrikóban: félmeztelenül. Hölgykísérőm meg is kérdőjelezte a felsők hiányának szükségességét, de hát mi férfiállatok már csak ilyenek vagyunk, ezt fogadjuk el! Ráadásul a Dust Bolt olyan energiabomba volt, hogy komolyan meglepődtem rajta. A zenéjük sajnos nem kapott el, hiszen a korai érás Metallica-riffek meg a thrash közhelyek sosem voltak az én világom, de amit a színpadon műveltek, az felért egy aksi-töltéssel. A zirka félórás szett kiemelkedőbb jelenetei közé tartoztak a dobos kolléga pornóbajuszának felfedezése (a mai napig nem értem ezt a trendet…), a basszeros kolléga bárpulton történő táncolása, illetve az akusztikus dal prezentálása. Mindenre számítottam, de arra, hogy a srácok előjönnek egy klasszikus gitárral kísért, végig tiszta és kiváló (!!) hangon előadott tétellel, az nem volt benne a levegőben. Ha a többi dal nem is, de ez mindenképpen elkapott és meggyőződésem, hogy Lenny-nek sokkal többet kéne tisztán énekelnie.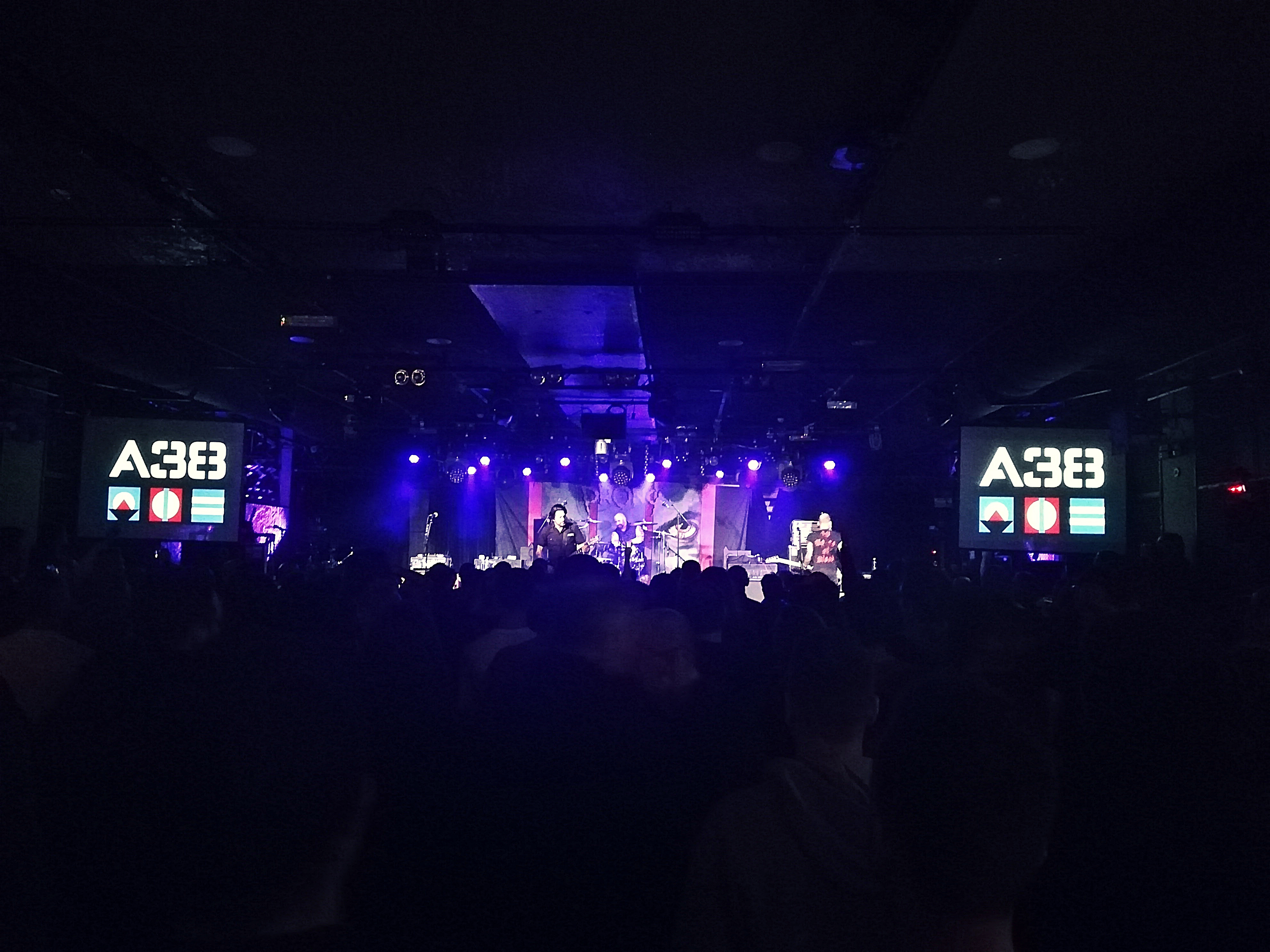 Harmadikként a Prong hozta a New York HC legjobb pillanatait és ami a legmeglepőbb volt számomra: rajtuk voltak stabilan a legtöbben. Pedig irgalmatlan hosszúságú műsorral készültek az urak, hiszen a több, mint 30 éves repertoárból mindenhonnan szemezgettek bőven. Tommy Victor tudásán látszott a rutin énekben és gitárban egyaránt, de talán ő volt az, aki nehezebben oldódott fel, viszont Jason és Aaron az elejétől fogva nagyon élték a bulit. Azt mindenképpen el kell mondani, hogy az urak hárman hoztak egy olyan feszességet, ami zárójelbe tette az előző két bandát, olyan stenk és pontosság volt a színpadon, hogy csak pislogtam. Egyben voltak, mint a kéthetes alsógatya, minden hangszer baromi tisztán szólt, Aaron (The Beast – ahogy Victor bemutatta) fáradhatatlan és tűpontos volt, Jason pedig megadta az egész este alját. Egyetlen dolog van, ami felett nem tudok napirendre térni, az a mérhetetlen mennyiségű pick squeal (sípoló hang), amit Victor használ. Komolyan, én azt hittem, hogy az After the Burial a legutóbbi lemezén kimaxolta ezt az idegesítőfaktort, de rá kellett jönnöm, hogy tévedtem. Plusz, ha egy negyedórával rövidebb lett volna a szett, azt még tudtam volna szeretni, hiszen a vége felé kezdtem azt érezni, hogy sosem lesz vége, de ezt betudtam annak, hogy másnap hajnalban kelni kell, ráadásul az Unearth-öt is nézném már…
Akik aztán nem sokkal fél 11 után be is robbantak és nem hagytak kétséget afelől, hogy ők ennek az estének a fő attrakciója. Egészen komoly és hosszú szettel készültek, amelynek a középpontjában természetesen a The Oncoming Storm állt – ezúton is igazat adok Völgyesi kollégának, aki ezt látatlanban meg is jósolta. Nem is volt ezzel baj, én egyedül az Incinerate-et akartam nagyon hallani, hiszen szerintem az utóbbi évek egyik legjobb dala a stílusban, ezt meg is kaptam, a többi majdhogynem mindegy volt. Ezt pedig azért merem kijelenteni, mert az Unearth az egyik legmegbízhatóbb banda a szcénában és nagyjából minden daluk hozza azt a szintet, amire meg tud őrülni mindenki. Ráadásul baromi jól szólt a cucc, a hangszeres játékra egy hang panasz nem lehetett, a sok jó dal közül természetesen a legnagyobb slágerek is előkerültek (Black Hearts Now Reign, The Great Dividers, Zombie Autopilot…), úgyhogy iszonyatosan pozitívnak élte meg mindenki a szettet. Kicsit Trevor screamelése lehetne változatosabb – mindamellett, hogy stabilitását tekintve tökéletes; Ken Susi-nak sem kéne erőltetnie a tiszta éneklést, de igazából a gitárjáték és a dob még így is simán elvisz mindent a hátán, úgyhogy csak az objektivitás oltárának adóztam ezzel a mondattal, amúgy egy szavam se lehet. És ha véletlenül úgy alakulna, hogy a srácok pár hónap múlva megint jönnek, hát egye fene, rám számíthatnak!
Jam
A bejegyzés trackback címe:
Kommentek:
A hozzászólások a vonatkozó jogszabályok értelmében felhasználói tartalomnak minősülnek, értük a szolgáltatás technikai üzemeltetője semmilyen felelősséget nem vállal, azokat nem ellenőrzi. Kifogás esetén forduljon a blog szerkesztőjéhez. Részletek a Felhasználási feltételekben és az adatvédelmi tájékoztatóban.