Az év egyik legnagyobb popmetal buliját hozza el nekünk március 4-én, azaz szerdán a New Beat a Papp László Sportarénába, hiszen a Hollywood Undead és a Papa Roach közös turnéja önmagában garancia a minőségi szórakozásra. Az pedig, hogy a 2018 egyik legjobb lemezét szállító Ice Nine Kills fogja nyitni a bulit, már csak kedves ráadás!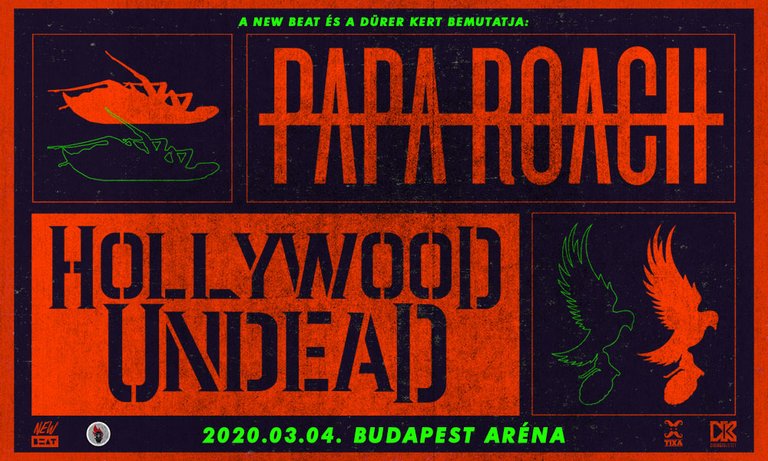 Az ezredforduló nu-metal forradalmában nevet szerző Papa Roach egy olyan energiabomba, amit nem lehet elégszer látni, ráadásul a tavalyi, Volt Fesztiválos bulival Jacoby-ék bizonyították, hogy a legutóbbi lemez (Who Do You Trust?, 2019) dalai élőben simán hozzák a szintet, és a közös éneklésekhez és ugrálásokhoz is tökéletesek tudnak lenni. Amikor meg jön egy Last Resort, egy Getting Away With Murder vagy egy Scars, akkor nincs mese, a nosztalgiafaktor kiakad és megindul a végeláthatatlan ereszdelahajam. Ehhez csatlakozván a nonstop hangszeres rotációban működő Hollywood Undead pont, hogy a nu-metal éra kihalásának időpontjában (2009 körül) vette fel a fonalat a rapmetal/mindenegyéb muzsikájukkal, és meg tudták ismételni azt, amit a "nagyok" bő tíz évvel azelőtt. Ehhez nyilván kellettek az olyan alapművek, mint a Been To Hell, az Undead vagy az abszolút sláger Everywhere I Go, de a srácok a legutóbbi V-val is egészen magas szintet hoztak, plusz egy kicsi spoiler a végére: az idei lemez is eléggé karcol (New Empire Vol. 1, 2020)! A nyitást pedig a személyes kedvenceim, a horrorcore-ban dolgozó Ice Nine Kills vállalta, akik végre egy akkora turnén kaptak helyet, ami már nagyon régóta kijárt nekik, hiszen a The Silver Scream könnyen, mindenféle erőlködés nélkül utasította maga mögé a komplett 2018-as metalcore felhozatalt (szvsz, azóta is minden mást). Szóval aki az év egyik legvagányabb bulijára vágyik, annak 2020.március 04. – Papp László Sportaréna!
Jegyeket a Tixa oldalán és a Sportaréna jegypénztárában tudtok vásárolni az alábbiak szerint:
kiemelt álló: 13.999 Ft
normál álló: 10.999 Ft
2. szint ülő: 11.999 Ft
3. szint ülő: 8.999 Ft
Minden egyébről a koncert facebook eseményénél tudtok tájékozódni.
Jam
A bejegyzés trackback címe:
Kommentek:
A hozzászólások a vonatkozó jogszabályok értelmében felhasználói tartalomnak minősülnek, értük a szolgáltatás technikai üzemeltetője semmilyen felelősséget nem vállal, azokat nem ellenőrzi. Kifogás esetén forduljon a blog szerkesztőjéhez. Részletek a Felhasználási feltételekben és az adatvédelmi tájékoztatóban.