68 perces múltidézés, arcon-köpésekkel gazdagon fűszerezett repetitív közhelyszószban készre párolva, némi hangszer-szexet idéző rigmusokra felhúzott kamu-outlenderséggel leöntve. "Meanwhile in the backseat" a Nirvana csendesen ujjazza Axel Rose ánuszának standard hangtartományát. Nagyjából ennyi az Alone in the Moon himnuszgyűjteménye, de azért boncolgassuk egy kicsit jobban ezt az egész masszát!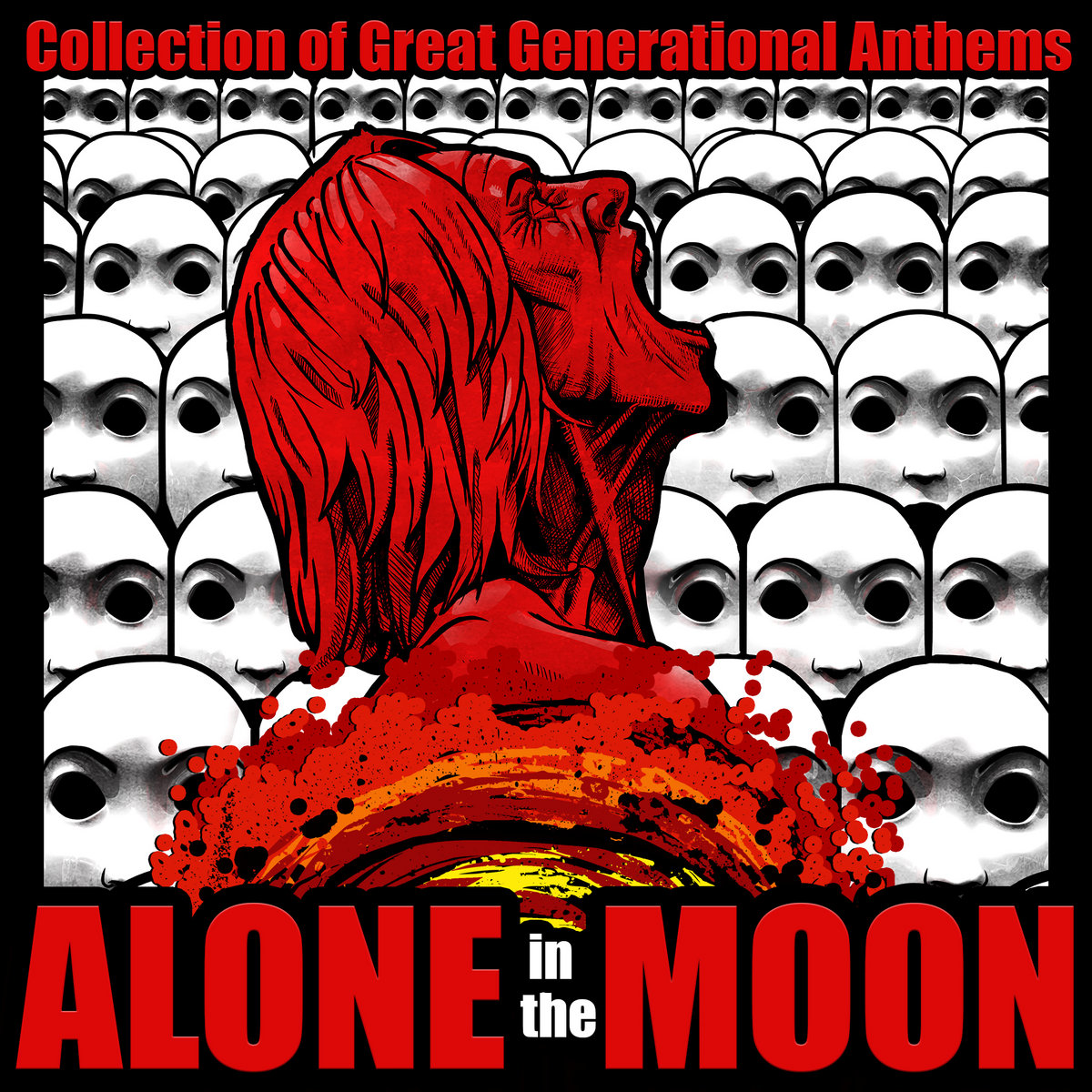 Szóval az van, hogy az AitM 1990 körül hatalmasat tudott volna robbantani Amerikában, főleg, ha a Nirvana nevet használták volna. (Ígérem, lassan leszállok erről a párhuzamról, csak eléggé nehéz figyelmen kívül hagyni a nyilvánvalót) Viszont 2015-ben Magyarországon már eléggé megkésettnek hangzana a dolog, DE! Mivel az okosaktól tudjuk, hogy Magyarország mindenben le vannak maradva zirka 50 évvel, ezért tulképp az AitM a hazai Nirvana és még a korát is bőven megelőzte! De ebből az egészből igazából csak azt akarom kihozni, hogy nem vagyok híve ennek a stílusnak és szerintem nem is ennek a stílusnak a korát éljük, de mivel a banda védjegyeként erőlteti a "kilógok a sorból és ironikusan odamondom a magamét" címkét, ezért ezen lépjünk túl annyival, hogy a sorból kilógás sikerült és én is ironizálhattam kicsit. Így tehát zeneileg a grunge szerelmesei tölthetnek több, mint egy órát a kedvenc műfajuk tengerében, mert maga a zene egyáltalán nem rossz. Unalmas, mint a groove-rock, grunge összes (számomra legalábbis), de el kell ismerni, hogy a srácok azért odapakolták magukat. Igyekeztek feldobni a dalokat öt-negyedes kezdéssel, hétnyolcados verssel, elszórt triola-használattal, akusztikus és torz részekkel...és nagyjából ennyi. A dalok legnagyobb része egy groove-ot ismételget öt-hat percen keresztül, mi meg elalszunk. Kár érte. Mármint az 5-6 perces számhosszakért, mert emiatt válik az egész nagyon vontatottá és repetitívvé. Meg az egymást és nagyobb elődöket (Tool, Queens of the Stone Age) idéző riffek miatt. Meg a sótlan énekhang miatt és a kevésbé baszós hangzás miatt. Pedig a Black Hole-ban oda tudják tenni magukat a srácok, ha akarják (á la Fish!), de itt sajnos eléggé hiányoznak a mélyek. Legalábbis nekem.
Alapjában véve az ének olyan, mintha Axl Rose elfelejtette volna a magas hangokat. Ezek a sor végén felhúzott hangok annyira idegesítőek a harmadik-negyedik dal után, hogy nem tudtam hova lenni tőlük. Komolyan mondom, nincs rossz hangja az énekes kollégának (legalábbis ehhez a stílushoz), de az önismétlés itt is sajnos elég magas szinten lett kihasználva, mint lehetséges opció. Az pedig, hogy miről énekelnek a srácok? Arról, hogy ők ugyan nem jobbak senkinél, de azért 'megaszongyák' a frankót minden kis ribancnak és/vagy gyökérnek, aki az elkorcsosult társadalmunk fiatalságát alkotja és mérgezi. Ergo nem laktóz érzékenyek, csak nem ihatnak tejet, mert a szervezetük képtelen lebontani (hehe). Körülbelül ennyire érzem hitelesnek ezt az agyonerőltetett "self-black-sheep" effektust. Szeretem a koncept-albumokat, nincs ezzel probléma, de amikor a hatodik dalt magyarázzák úgy a srácok (a saját szavaikkal), hogy "mész egy buliból haza, ami tele volt ribanccal és nem találtad a helyed", akkor azért már megkérdőjelezhető a dolog újdonsággal kecsegtető faktor-hányadosa. Ez egyébként abból is adódik, hogy 14 dal található a lemezen, ami pont 4-5 dallal több, mint kellene. Legalábbis szerintem ez az önkritikus dal-szanálás sokat dobhatott volna a lemez élvezeti szintjének fokozásán. Az pedig, hogy miért kellett angolul énekelni, ezt a mai napig nem értem... Az Emigrant Song végén egészen jó az a magyar kezdemény, ezt kellett volna erőltetni, mert az angol kiejtés nem túl autentikus (sőt, néhol fájó) és ez a stílus nem követeli meg ezt a nyelvet (szemben mondjuk egy post-hardcore-ral vagy metalcore-ral).
Egy szó, mint száz: ez a lemez jó lehetett volna magyar szövegekkel, 9-10 dalnyi hosszúságban (azok sem 5-6 percben prezentálva), 1990 körül, hogy kibillentse az Ossiánt a kamu-hevay-metal egyeduralmi pozíciójából, és friss színt hozzon a hazai rock-palettára, így viszont - sajnos - elvérzik majd' minden téren. Nem akarok én lenni a megmondóember, aki mindent jobban tud (a ribancoknál és gyökereknél, ugye), de sajnos ez nem lett túl combos. A negyedik dalnál vártam már a végét, pedig hol volt az még... És ez a hatalmas probléma a lemezzel: nem köti le az ember figyelmét túl sokáig. Kár, talán majd legközelebb!
Jam
A bejegyzés trackback címe:
Kommentek:
A hozzászólások a vonatkozó jogszabályok értelmében felhasználói tartalomnak minősülnek, értük a szolgáltatás technikai üzemeltetője semmilyen felelősséget nem vállal, azokat nem ellenőrzi. Kifogás esetén forduljon a blog szerkesztőjéhez. Részletek a Felhasználási feltételekben és az adatvédelmi tájékoztatóban.