Kilencedik lemezét gurította piacra a New York-i illetőségű Stray From The Path tavaly, az Internal Atomics pedig minden, amiért valaha is hallgattuk ezt a bandát. A keménység, a düh, a harag, a szövegek, az energia, a hangzás, a kreatív zenei megoldások, a változatosság… egyszerűen minden annyira a helyén van, hogy nehéz lenne belekötni.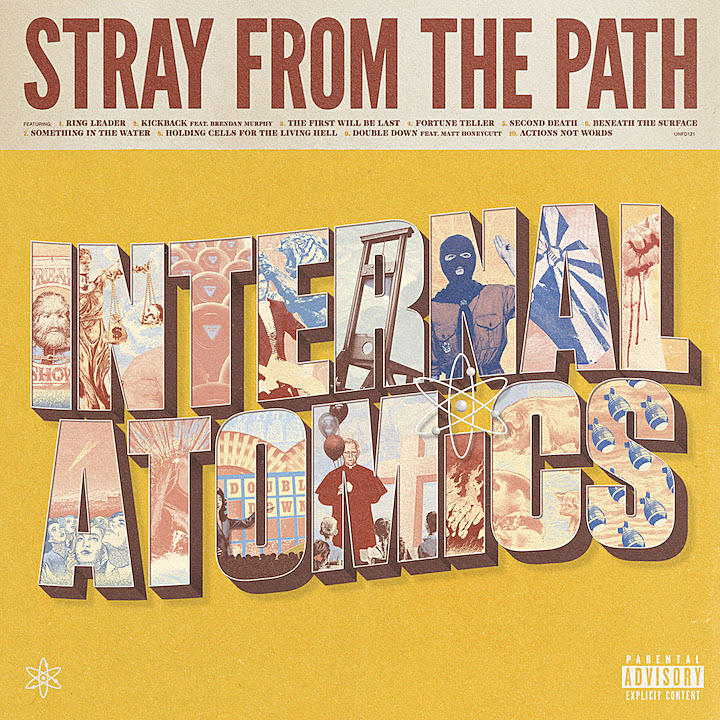 2014-ben láttam először Drew Yorkot és bandáját a Dürer színpadán, amikor is Architects és Northlane bulira érkeztem felfokozott hangulatban és teljesen vakon repültem a srácok zenéjét illetően – ami nagyjából annyit jelentett, hogy darálják le a műsorukat, aztán hadd jöjjenek a kedvenceim. A mondás szerint pedig innen szép nyerni, a Stray From The Path pedig úgy kétvállra fektetett már az első percekben, hogy nem tudtam eldönteni, hogy a fejemet vagy a levegőt kapkodjam hevesebben. Azt az energiát és színpadi jelenlétet, amit ez a négy ember leművelt, valószínűleg azóta sem láttam sehol máshol, pedig megjártam azóta többszáz bulit, stílustól függetlenül. Valami olyan egyedi atmoszféra lengi körül a bandát és olyan hevességet és dühöt képesek közvetíteni, ami egyedülállóvá és azonnal felismerhetővé teszi őket. Az Internal Atomics-ben (meg talán az elmúlt 3-4 korongon is) pedig simán ugyanezt a kérlelhetetlenül hanyatt döntő energiát érzem, ami egy armageddon erejével üvölti az arcodba, hogy nem csak a világ a sz*r, amiben élünk, hanem mi magunk is azok vagyunk. Sőt, mi tettük azzá.
A csapat mozgatórugója és agytrösztje, Tom Williams gitáros megfáradhatatlanul szállítja a különleges, bármikor felismerhető riffeket ebben a megfáradt műfajban, és amikor egy Fortune Teller, egy Second Death vagy éppen a Something In The Water gitárjátékát meghallod, akkor megérted, hogy mire gondolok. Olyan egyedi stílusa van az embernek, amit igazából simán hasonlítanék a Dance Gavin Dance-es Will Swan-hoz, nyilván annyi különbséggel, hogy amit Will Swan produkál (mind tudásban, mind kreativitásban), az mindig is utolérhetetlen marad. De Tom becsülettel próbálkozik és a játéka most is kifizetődő lett, hiszen mind a tíz dal tartalmaz olyan megoldásokat, amiért már megérte foglalkozni az adott tétellel. Ráadásul általában egy gitársáv van csak mindenféle színezések nélkül, hogy élőben is ugyanazt tudják hozni, mint lemezen – á la Jinjer. Ugyanez elmondható a csapat legfrissebb tagjáról, a három évvel ezelőtt leigazolt Craig Reynolds dobosról, aki szintén milliméterekre kiszámolt, ronggyá színezett groove-okkal dolgozik, amiket élvezet hallgatni. Néha eltolja a pergőt, néha szimplán kihagy egy ütést, van, hogy megforgatja az egészet felütéssé, és így tovább, és így tovább, de soha nem lesz életidegen vagy erőltetett, amit csinál. Plusz amikor Anthony röfögős, rommá torzított basszusgitárja csatlakozik hozzá, akkor Tom olyan alapot kap maga alá, amire teljes szívnyugalommal kísérletezhet (elég csak a Kickback nyitó témáját vagy a Fortune Teller breakjét kiemelni). A változatosságra pedig igazán nem lehet panasz, hiszen az aszfaltszaggató tempótól a nyakzsibbasztó bólogatós témákig, az ugrálásra buzdító és circle piteket indukáló témákon át minden megvan ebben a tíz dalban.
Drew Yorkról pedig csakis szuperlatívuszokban lehet beszélni, hiszen a hangja egyedi és bárhol felismerhető, ahogy használja, az pedig tanítani való. Emellett Will Putney producer (akivel egyébként már az ötödik korongot rögzítették zsinórban) kihozta a szőke énekesből a legjobbat, hiszen Drew elmondása szerint egy-egy témát annyiszor kellett felnyomnia, amíg Will (is) elégedett lett a végeredménnyel. Az Internal Atomics tekintetében pedig kijelenthető, hogy ez a munkamódszer maximálisan kifizetődő volt. A szövegek a szokásos rendszerellenes, világellenes, mizantróp, depresszív, dühös vonalon mozognak és egy gyönyörű keretes szerkezetet alkotva fogják közre a lemez tíz tételét. Ugyanis a Ring Leader "Thinking like everyone else is not really thinking" felütésére tökéletes feloldás az Actions Not Words zárásaként felvonultatott "The choice is yours, change the world" sor. És ez csak a jéghegy csúcsa, javaslom, hogy fedezzétek fel az elejétől a végéig, értelmet nyer, hogy a fenti példák nem csak üresen puffogtatott frázisok. Plusz a Counterparts-os Brendan Murphy a Kickback-ben, illetve a Kublai Khan-os Matt Honeycutt vendégszereplése a Double Down-ban szintén megér egy említést – bár utóbbi jóval markánsabb.
Ebből is látszik, hogy engem teljesen megvett a SFTP tavalyi korongja dekára, egyszerűen nem találok rajta fogást. Egyértelmű volt az elejétől kezdve, hogy év végi top 3-as lemezről beszélünk (mint ahogy az is lett nálam), hiszen egész évben nem nagyon jött ki ennyire komplett, elejétől a végéig egyben lévő, megingásokat még csak hírből sem ismerő alkotás. Ha két év múlva jön a folytatás, minimum egy ilyet kérnék! Köszönöm!
Jam
A bejegyzés trackback címe:
Kommentek:
A hozzászólások a vonatkozó jogszabályok értelmében felhasználói tartalomnak minősülnek, értük a szolgáltatás technikai üzemeltetője semmilyen felelősséget nem vállal, azokat nem ellenőrzi. Kifogás esetén forduljon a blog szerkesztőjéhez. Részletek a Felhasználási feltételekben és az adatvédelmi tájékoztatóban.