Idén végre tényleg megtörtént az, amit több ezer honfitársunk és környékbeli nu-metal rajongó várt évek óta, és a Korn színpadra lépett a Papp László Sportarénában! De vajon a Kornnak még mindig van létjogosultsága egy olyan műfajjal, ami már vagy másfél évtizede halott?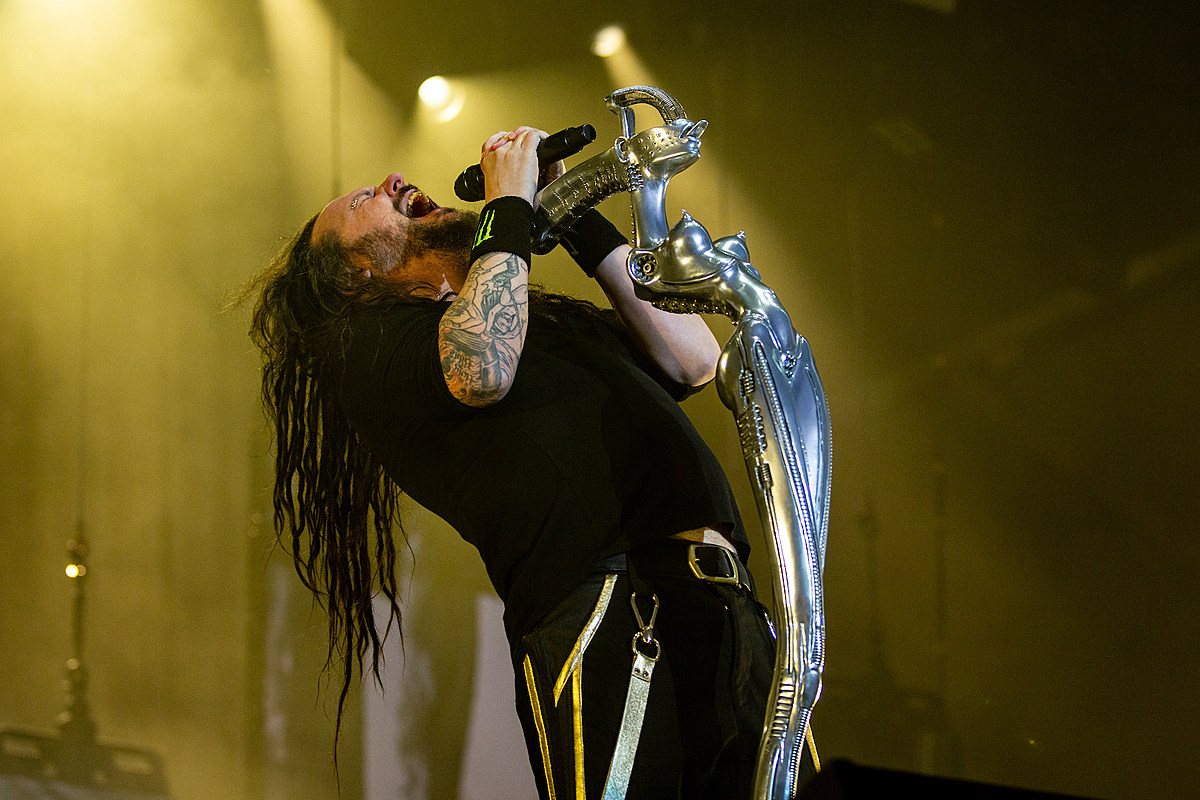 Az utolsó pillanatban eldöntetett, hogy megyek, úgyhogy a koncert felé tartottam, miközben agyamban szállingóztak a flashbackek a régi tinédzser-kori nu-metal nagyágyúiról. Célpontom most nem más volt, mint a Sportaréna, ahonnan már így is nagyon vegyes élményeim és tapasztalataim voltak, ennek köszönhetően pedig nagyon keserédes a hozzáállásom a helyhez. Vagy bitang jól szól, vagy szívből elvérzik. Az utóbbi hetek koncertjeinek nagyon különböző, olykor erősen negatív hírverése (khm…RHCP...khm) cseppet sem volt bíztató, de igyekeztem prekoncepció nélkül hozzáállni az estéhez. Negyed nyolc után pár perccel leszálltam az elég üres villamosról, és igen nagyot nézve konstatáltam, hogy ez bizony furcsa, hiszen ekkora névnél messze nem a légüres tér a tapasztalatom, ezekben az órákban általában már mozdulni sem lehet a megálló környékén. Most viszont csak egy kisebb tömeg várt, mint egy kevésbé sikeres Budapest Parkos koncertnél. Sétálva a beengedőkapuk felé egyre ferdébb szemmel néztem, hogy a jelenlévő emberek bizony sokszorozódva is kevesen lennének, egy MCR-es sornak híre-hamva sem volt, pedig a majd' húszezer érdeklődő, és a több éve halasztott koncert bizony nem ezt vetítette előre.
A beengedéssel abszolút nem volt semmi gond, meglepődve tapasztaltam, mennyire könnyen át lehetett jutni a kapukon. Noha páran szívükre vették, hogy övtáskánál, tornazsáknál nagyobb táskát nem engedtek be, erre voltak messze előre kiállított biztonsági őrök, akik figyelmeztettek mindenkit, így innen panasz a szervezőket nem érheti. A tömeg az előtérben sem volt nagyobb, bent sétálva már hallani lehetett, hogy az előzenekar éppen kezd, de még tettünk egy körutat. A merch árakat meglátva egyre jobban elgondolkoztam azon, hogy ez koncertről koncertre egyre katasztrofálisabb, és nem éri meg egy pillanatig sem koncerten merchet vásárolni, hiába az élmény, a magyar pénztárcák nem ehhez vannak igazítva.
Beérve a küzdőtérre ámulva néztem körbe, hogy az Aréna több mint fele üres(!), és annyi hely van, hogy bőven beférne ide két másik előadás is, de betudtam annak, hogy a kettészedett turné következtében eljött kanadai Deadly Apples bizony keveseket mozgat meg, rengetegen az eredeti Gorija zúzda elmaradása miatt később jönnek. Az ének-sampler-dob-gitár felállást egy pár pillanatig még érdeklődve figyeltük, aztán az énekes egy olyat screamelt a mikrofonba, ami bizony dobhártyasértő volt, abszolút nem a jó értelemben. Erősen gondolkoztam, hogy a nem megfelelő hangosítás, vagy pedig a nem megfelelő énektechnika volt-e a ludas, de több ugyanolyan dal után nyilvánvalóvá vált, hogy ez bizony mindkettő. Nem tudom azt mondani, hogy rendben volt a cucc, mert az ének túl volt tolva, a dobbal egyetemben, és ez bizony később is előjött, míg a gitárt, ha nem látom a színpadon, nem gondoltam volna, hogy van.  Ez őket egy cseppet sem zavarta, beleadtak mindent, ez nyilvánvaló volt, a mikrofonállvány nem egyszer repült, a samplerest pedig erősen elküldtem volna egy micimackós tigris buliba, mert annyit ugrált, hogy nézni is fárasztó volt. Viszont a dalaik, ők bármennyire is élték, semmi indokot nem mutattak arra, hogy egy Korn előtt lépjenek fel. Mintha egyszerre hallgattam volna Falling In Reverse-t és Linkin Parkot, és a vörös fényeken és a stroboszkópon kívül bizony látványra sem voltak többek. A mozgásra rengeteget adtak, a dobosuk rendszeresen eltűnt a cájgtól, hogy elöl köszöntsön, buzdítson mindenkit a mozgásra, szóval ők ezt tényleg nagyon odatették, és ez bizony később megmutatta, mi hiányzott az este további részéből… Egyik nagy meglepődésem oka a kivetítők teljes hiánya volt, a színpad melletti részek annyira feketén árválkodtak, hogy elgondolkodtam, tényleg az Arénában vagyok-e. Kerek 38 perc játékidő után levonultak a színpadról, bezsebelve a közönség nem teljesen meggyőző szeretetét és elismerését, aztán kezdődött a fájdalmas várakozás. Fájdalmas, mert még mindig nem tudom megérteni, hogy egy metal buli elé miért kell rosszabbnál rosszabb pop és blues dalokat játszani, főleg mikor olyan zenekar vonult le, ami bizony nem volt híján a screameknek.
Aztán 3 perc csúszással berobbant a végre elég embert magába szívó Arénába a Korn, és a Here to Stay bizony tarolt…volna. A hangosítást még itt sem sikerült megoldani, és a kezdés előtti 5 perces statikus zaj ismét életjelet adott magáról, amit 2022-ben valamiért nagyon divatos lett használni. A dob eléggé mellbevágott, Jonathan Davis éneke kifogástalan volt, de a gitárok elvéreztek, és ez az egész estét végig kísérte. A dob-ének kombó messze felülírt mindent, és akármennyire is profik, én nagyon hiányoltam azt a két gitárt, mert olyan emberek kezében volt, akiket érdemes hallani. Jonathan élvezte a bulit, látszott, hogy visszavágyott már Budapestre, bár mint majdnem mindenki, neki se megy városunk "SZ" nélküli kiejtése, de neki azért megbocsátjuk. Némi időzavarban szenvedhetett szegény, hisz szerinte 5 éve nem jártak nálunk csak, de szerintem 2014-gyel számolva kicsit más a matek. A Falling away from me-nél már kezdett kicsit jobbá válni a hangzásvilág, de még mindig nem érte el azt a szintet, amit vártam a helytől. Noha a Requiem bemutatója volt az este apropója, inkább a már kultikussá vált, de ronggyá és unalmassá hallgatott daloké volt a főszerep. Nyilván nem maradt el a Shoots and Ladders - One snip, a No One's There vagy a Freak on a Leash, ami tényleg jó cucc, de több mint 1400-szor játszottak már élőben. A közönséget látszatra azonban ez cseppet sem zavarta, szinte mindenki mozgott, nem kevés circle pit és pogó volt, de én belül egy részben zokogtam. Rengeteg szünet volt a dalok között, újra és újra feltűnt az a statikus zaj, ami a nu-metal elengedhetetlen része, mégis annyira leülteti a számok között az embert, hogy idegesítővé válik. A színpadi mozgásuk Jonathan kivételével kvázi nulla volt, egyszerűen nem értettem, mi folyik itt. Egy próbateremben többet mozognak bizonyos bandák, akkor meg hogy lehet, hogy pont a nu-metal koronázatlan királyaitól nem látok szinte semmit? Tudom, a kor…
Minden dal kezdete robbanásig feszítette a hangulatot, izomból jöttek, mint a gyorsvonat, de valahogy mégis, mintha valami hiányzott volna, a dalok közepére a közönség a zenével együtt lelassult, és eltűnt az a kezdeti hév, ami minden indulásnál ott volt. A látványvilágnál nagyon nagy kihagyott ziccereket éreztem, viszonyítva a 2 évvel ezelőtti Five Finger Deat Punch-hoz képest a fényeken kívül semmilyen színpadi elem nem volt, és egyre többször járt a fejemben az a gondolat, hogy ennek így, arénába rakva mennyi az értelme. A helyhez képest nem voltunk annyian, amennyit vártam és amennyi ildomos lenne, illetve az arénakoncerteknek egyik elmaradhatatlan eleme az a látványvilág, amit egy fesztiválon nem lehet olyan szinten megvalósítani idő híján, de ide mindenképpen kellett volna. Nem éreztem mást, mint ha egy teljesen átlagos koncerten lennék, teljesen középszerű látvánnyal és hangzással, plusz ennek tetejébe volt egy teljesen átlagos setlist is. Kitűnő koncert lehetett volna, akár az év bulija is, de még mindig nem sikerült azt a szintet hozni, amit Rise Againsten átélhettünk, pedig a két hely lehetőségei eléggé eltérőek. A vége felé aztán kaptunk egy végre kicsit érezhető "tegyük oda srácok" dallistát, a Twist, az A.D.I.D.A.S. és a Clown trió nagyot robbant, követve egy dobszólóval, majd lezárták a ténylegesen megmozgató dalokat egy Blind-dal. Rengeteg időt töltöttek a színpadon a levonulás után, nem kevesen lettek gazdagabbak dobverőkkel, pengetőkkel és talán az egyik leghosszabb zenekari köszönöm volt, amit életemben láttam. Nagyon kettős érzettel távoztam a buliról, hiszen egyrészt vártuk már őket, mert elég régóta halasztották a bulit, felvagdosták a turnét, jött pár lemez, mióta utoljára itt jártak és idén van az első olyan szezon, hogy végre tényleg vannak bulik 2 év után. Meglett volna az esély egy igazán odavágós koncertre, és mégis nagyon nagy hiányérzet maradt bennem. Visszavárósak, de talán érdemes lenne elgondolkozni, hogy ne az Arénába jöjjenek (6000 emberrel elég a Park is), vagy azt használják ki jobban, mert ennél voltam már sokkal jobb és erősebb koncertjükön is.
Wimi
A bejegyzés trackback címe:
Kommentek:
A hozzászólások a vonatkozó jogszabályok értelmében felhasználói tartalomnak minősülnek, értük a szolgáltatás technikai üzemeltetője semmilyen felelősséget nem vállal, azokat nem ellenőrzi. Kifogás esetén forduljon a blog szerkesztőjéhez. Részletek a Felhasználási feltételekben és az adatvédelmi tájékoztatóban.