A Deftones annyi tologatás, rekonfirmálás, kétségbeesés, tagcsere, kommunikációs nehézség, laposföld, fű, session tagok és késés után érkezett a Budapest Parkba, hogy már elég nehéz volt szkepticizmus nélkül nekifutni az estének, hiába Messiásként vártuk sokan Chinoék eljövetelét. Nos, az eljövetel megtörtént, de hogy szentté avatás is lesz-e, az bizony már kérdéses!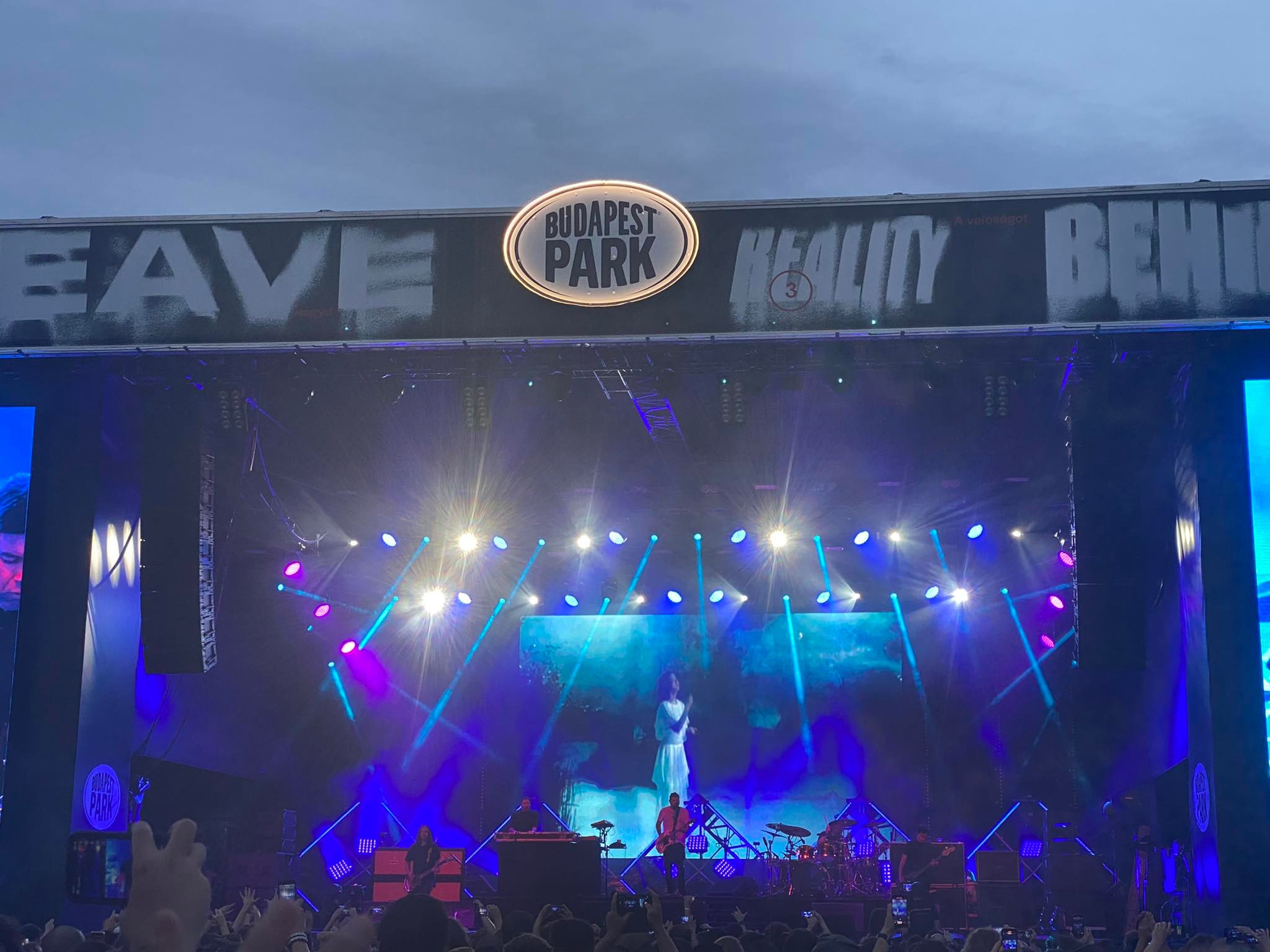 Már önmagában a kommunikáció a rajongók felé és az események és információk slendrián kezelése is olajat öntött a lángokra, hiszen kb. a koncert napjáig nem lehetett tudni, hogy mikor kezd a banda, ki lesz az előzenekar, lesz-e egyáltalán előzenekar, mikorra kéne odaérni, stb, stb… Alapból félelemre ad okot, ha valami ennyire szervezetlen(nek tűnik), főleg annak tükrében, hogy az eddigi koncertek mind jól (vagyis ennél sokkal jobban) és jóval előre voltak kommunikálva, a június 24. meg lógott a levegőben, hogy jön a Deftones, de ennyi. Nos, a para félig-meddig be is igazolódott, hiszen előzenekar nem volt, csak DJ Jam (nem, nem én voltam, pedig higgyétek el, spotiról én is legalább ennyire jól tudok zenéket betenni, tehát lehettem volna…) szórt meg minket kultklasszik slágerekkel, amiket ugyan mindenki kívülről fújt (Metallica, RATM, Soundgarden, Alice in Chains…), de hogy ezzel nem lettem rákészülve a koncertre, az is biztos. Úgyhogy ezen lépjünk is marha gyorsan tovább, mert kár rá szavakat pazarolni.
A Deftones 7-re volt kiírva először, majd a koncert napján módosítottak, hogy inkább legyen az 8, nehogy már matiné legyen és mindenki hazaérjen a Barátok közt-re. Öregek vagyunk, de nem ennyire! Szóval este nyolckor (plusz ÁFA, plusz üveg, plusz jatt) fel is állt a zenekar (háromötöd része, hiszen a basszus és a gitár csak session) és nekiindultunk a tizennyolc dalos utazásnak. És akkor most itt állnék meg egy ásónyomra és kérdezném meg, hogy
mi a búbánatos, batyuba tekert, dróton rángatott, mézben hempergetett Isten f*sza volt ez a hangosítás???
Konkrétan az első néhány dalban hallottunk lábdobot és pergőt, effektet rogyásig és néha Chino (amúgy még útkereső és hamiskás hangja) is felbukkant itt-ott. A húros szekció meg ott volt a színpadon. Később aztán árnyalódott a kép és az olyan daloknál, ahol nem volt sampler, még úgy-ahogy hallható volt a két gitár, de a basszus alapból tompa mivolta sokat nem adott hozzá az egészhez. Amikor meg visszajött a sampler, ott megint kuka az egész… Chino aztán javult valamelyest (mind hangzásban, mind tisztaságban), de olyan erőteljesen és érthetően kihangosított vokálok, mint például Rise Against-en, Billy Talent-en vagy Silverstein-en, na olyanok nem voltak. Itt egyébként hozzátenném, hogy Chino egészen jó formában volt és a nettó kilencvenpercnyi szenvedéséből a 80%-ot simán vállalhatóan, sőt mi több, profin és tisztán hozta, úgyhogy erre szavam nem lehetett. Maradjunk annyiban, hogy előzetes koncertfelvételek és beszámolók alapján messze sokkal rosszabbra számítottam. Viszont az, hogy a lábcin konkrétan NEM VOLT kihangosítva egy olyan bandánál, ahol a dalok, sőt a szett 78%-a azon van leütve, na az bizony már egy égbekiáltó baki a hangosítók részéről. Láttam én, hogy Abe püföli, mintha muszáj volna, csak hallani nem hallottam és így a profi láb és ghostos pergőrészek kicsit féloldalasra sikerültek. Nem mondom azt, hogy jobbat csináltam volna, hiszen még csak egy Tata-külsői garázsbandát tudok magabiztosan kihangosítani, azt is csak a próbateremben, de ha én hallottam ezeket a hiányosságokat, akkor egy profinak főleg kellett volna… Az pedig, hogy a Park tényleg annyira halk lett, hogy normál hangerőn lehetett beszélgetni a keverőpult mellett és az egész összkép olyan tompán szólt, mintha plexifalak mögül zenélnének, az már csak hab a tortán. Konkrétan nem voltak robbanások, mikor egy-egy refrénnek meg kellett volna érkeznie, nem volt dinamikailag elkülönítve egy egyszálgitáros verze a mindent-bele üvöltözős középrészektől…  Valószínűleg én vagyok a süket, mert minden más beszámoló isteníti a hangosítást, de objektíven megítélve: ez bizony baromira messze volt a tökéletestől!
A szettre egyébként nem lehetett panasz, olyan besztofot hoztak Chinoék, hogy le a kalappal, de amikor egy Diamond Eyes vagy egy Around the Fur nem b*sz úgy gyomron, hogy ott maradjak, akkor ott bajok vannak. A zenészek egyébként élvezték a bulit (valószínűleg a fülükben jól szólt a cucc…), Chino vitte a hátán az egészet, a profizmus sütött lefelé. Ellenben én sokkal több kommunikációt elviseltem volna, mert a dalok közti csendek eléggé leültették a bulit. Amire panasz nem lehet, az a vizuál. A klipek a háttérben, a lámpák megkomponált színvilága, a dob-sampler emelvényen futó ledcsíkok mind-mind olyan képeket festettek elénk, amibe még úgy is simán bele tudtam veszni, hogy amit hallottam, az közel sem volt tökéletes. Az egészre sajnos nem tudom azt mondani, hogy az év bulija lett volna (nálam a nosztalgia és a tinédzserkori édes emlékek nem emelték piedesztálra a bulit), viszont látványra toronymagasan vitt mindent, amin eddig voltam idén. Nagyon reméltem, hogy ha már ekkora a várakozás és ilyen régóta készül rá közönség és a banda egyaránt, akkor tényleg egy olyan élményt kapunk, amivel bőven kihúzhatjuk majd a következő tíz évet, amíg újra erre kanyarodnak az urak. Már ha egyáltalán lesz még ilyen. És a különböző beszámolók alapján (amiket amúgy hiába olvastam, nem tudtak meggyőzni) ezt rajtam kívül kb. mindenki meg is kapta, szóval kezdem azt hinni, hogy bennem van a hiba…
Jam (a nem DJ)
A bejegyzés trackback címe:
Kommentek:
A hozzászólások a vonatkozó jogszabályok értelmében felhasználói tartalomnak minősülnek, értük a szolgáltatás technikai üzemeltetője semmilyen felelősséget nem vállal, azokat nem ellenőrzi. Kifogás esetén forduljon a blog szerkesztőjéhez. Részletek a Felhasználási feltételekben és az adatvédelmi tájékoztatóban.